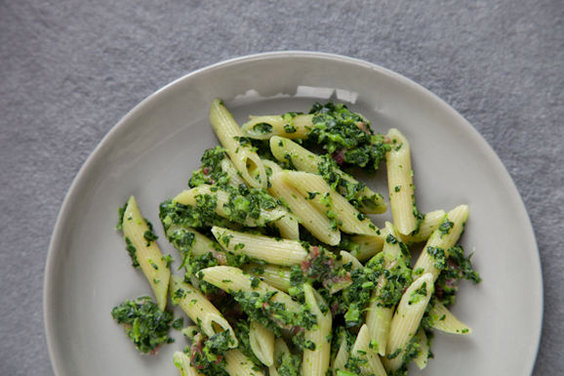 Photo by Jennifer Causey
Even those of us who needed Cliffs Notes to get through Pride and Prejudice cannot deny the satisfaction of seeing the intensely brooding Mr. Darcy finally get his girl in the end. Sure, he is aloof; some would even say arrogant and abrasive. He certainly does not make a great first impression. But in the end, all he really needs is the warmth and spark of vivacious Lizzie Bennett to bring out his best self.
In the world of vegetables, Mr. Darcy's counterpart would surely be bitter greens. They are so, well, bitter! On their own, they won't win too many popularity contests, but paired with the right partner; their Lizzie if you will, they shine. Think kale, its pungent flavor balanced and brightened by the similarly bold tang of an acid like lemon juice or vinegar. And there are collards, slowly braised with bacon, its fat rendered to add porky goodness that mellows the dish and brings it together. Or what about a cheesy, rich gratin, its enveloping creaminess turning the likes of Swiss chard into downright comfort food?
Amanda's lush pasta creation, which definitely falls into the greens-as-comfort-food category, highlights both dinosaur kale and broccoli rabe, united with ingredients that elevate their natural assertiveness. Feel free to experiment with this forgiving recipe by switching out the greens for your favorites, swapping out the pancetta for bacon, or using Parmesan instead of Pecorino. If you don't have any crème fraîche on hand, sour cream or Greek-style yogurt make worthy stand-ins. Just keep in mind that both of these tend to curdle at high temperatures, so don't go reheating any leftovers beyond a simmer.
Penne with Creamed Greens and Pancetta
Serves 4
Salt
1/4 pound pancetta, cut into 1/4-inch dice
1 pound bunch broccoli rabe, rinsed and trimmed
1 medium bunch dinosaur kale, rinsed and stems trimmed
1/4 cup olive oil
Pinch red pepper flakes
1/4 cup heavy cream
Juice of 1/2 lemon
1/3 cup creme fraiche
1 pound penne rigate
3 to 4 tablespoons grated Pecorino Romano
See the full recipe at FOOD52.
• • • • •
Wine pairings:
When I eat pasta, I always drink Italian wine. Plenty of other wines from around the world work great too, but often enjoying food and wine from the same country just feels better. For this dish, almost any northern Italian white would make a perfect pairing. Friulano, for it's texture and green flavor profile, is at the top of the list. If you're not familiar with it, it's a great bargain and can be found easily these days as wine folks are thrilled with the results in the glass. Another good choice would be Soave from the Veneto. It's generally a blend of two varietals: Garganega and Trebbiano. Soave is a little more like Chardonnay, with a roundness on the palate and less bracing than the Friulano. If your preference is for new world wines, go for the Soave.
Top Picks
2010 Ermacora Friulano, Friuli, Italy
2010 Prà Soave Classico, Veneto, Italy
Like this post? See the Make This Tonight post from last week: Satsuma, Beef and Vegetable Stir-Fry.