In her biweekly column, A Shared Tradition, CIA grad and amateur food historian Molly Siegler cruises around the world (and into the depths of her pantry) to explore the versatility of a single food item.
This week: Molly digs up peanut buttery recipes, both sweet and savory.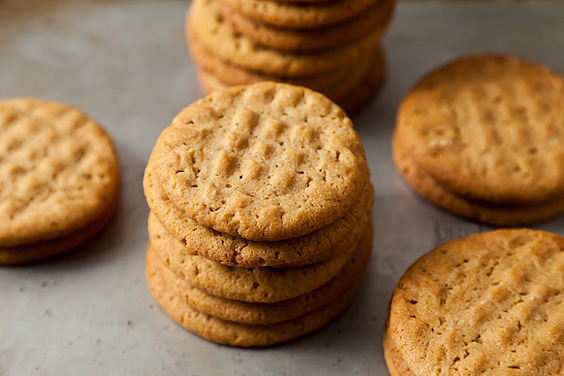 Photo by James Ransom
- Molly
Peanut butter is a pantry staple that has a reach far beyond PB&Js. Sure, the goopy condiment can be found in the lunch boxes of kindergarteners, but it also stars in a dipping sauce for street food in Indonesia. In many grocery stores, we're faced with a dazzling array of peanut butter variations that speaks to our fascination with the ingredient.
I admit to a long and illustrious life with peanut butter -- though my stickiest memory isn't particularly glamorous. I had a very rigid understanding of the proper lunch during my secondary school years, and that view always included a peanut butter and honey sandwich on wheat bread. Luckily, my father perfected the construction of these essential sandwiches and passed his knowledge on to me. His secret? The peanut butter is spread on both pieces of bread. Genius.
Indonesian
Satay originated in this island nation though its popularity has spread worldwide.
Skewered chicken marinated with a touch of turmeric, palm sugar, and plenty of garlic provides a delectable vehicle for the silky peanut sauce.
Coriander -- in fresh (i.e. cilantro) and seed form -- augments the dish with pungent earthiness.
Tamarind paste or concentrate could be added to the marinade and the peanut sauce for a fresh, tea-like sour note.
A spicy peanut dip serves as an irresistible lacquer for the chicken.
West African
Peanut Stew is a hearty meal found all over West Africa often with the addition of chicken or goat.
Freshly roasted and ground peanuts add body and loads of toasty flavor.
Hot fresh chiles -- Scotch bonnets if you dare -- spike this silky soup with heat necessary to cut the richness.
Sweet potatoes are important to this region's cuisine and add subtlle sweetness to the savory soup.
Canned tomatoes (or fresh, in season) balance the preparation with bright acidity.
Southern (U.S.)
Though these Boiled Peanut Butter Cookies may seem awfully familiar to those of you who ran the sleepover circuit in the 80s and 90s, Scott Peacock's version of these ubiquitous "no-bake" cookies is cooler by default. (Try Merrill's cookies, too, pictured above.)
Crunchy peanut butter is the preferred grind for these cookies.
Quick-cooking oatmeal provides chew without tacking on cooking time.
Unsweetened cocoa powder gives these cookies their signature coloring.
A mass of sugar makes these cookies essential for staying up all night.
Nigerian
The cooking style known as Suya features grilled meat or seafood marinated in a silky sauce of homemade peanut butter and chiles.
Preparing homemade peanut butter is a cinch with the help of a food processor, vegetable oil, and a pinch of salt.
Swordfish (sustainably caught using harpoons or handlines) is a firm fish well-suited to grilling.
Ground spices like sweet paprika and ginger add uncompetitive depth.
Fresh lime juice brightens the marinade and thins it out, so the sauced fish won't stick to the grill.

Two-Bite Buckeye Cookies and African Kale Dish. Photos by James Ransom (left) and Joseph De Leo.
These are just a few of the ways I like to travel by way of peanut butter. What other regionally inspired flavors would you use to make this creamy or crunchy condiment your own? Share your ideas in the comments section below.
Do you love a good food theme as much as I do? Tell me what food items or themes you'd like to see featured in this column and your idea could be the subject of an upcoming post!
Like this post? See Molly's previous topic: Drinking Chocolate.
Molly is a chef and food educator living and cooking in Northern Wisconsin. When she's not dreaming up themed menus, she's dishing out other delicious content as the editorial assistant for the Whole Foods Market Cooking program.