In her biweekly column, A Shared Tradition, CIA grad and amateur food historian Molly Siegler cruises around the world (and into the depths of her pantry) to explore the versatility of a single food item.
This week: Molly corrals meatball recipes from around the globe.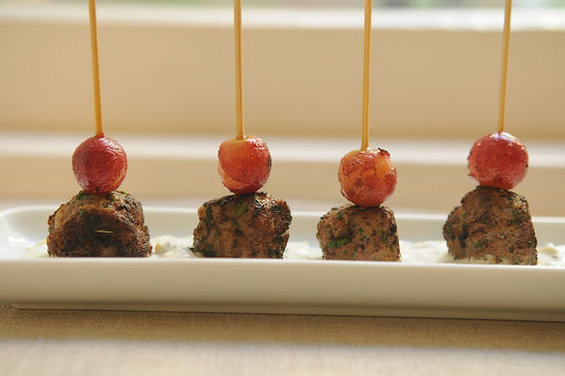 Kefta-Style Meatballs with Grilled Grapes and Yogurt Sauce (photo by Melanie Einzig)
- Molly
During the most recent season of Top Chef, head judge Tom Colicchio reasoned with one contestant that her food was up against more interesting and exciting options, and the cheftestant sarcastically interjected, "Like a meatball?" Though I giggled at the time (Tom was chastised!), I have to admit I'm completely on Tom's side.
Meatballs are surprisingly exciting, as is evidenced by an ultra-cool mini restaurant chain in New York City, which everyone is lining up to try. Nearly every country in the world offers some meatball interpretation, and their sizes, stuffings, and accompaniments vary from region to region, cook to cook. What spherically shaped savories have you come to love?
Finnish
Versions of this soft and fragrant meatball can be found all around Scandinavia.
A panade gives these meatballs their pillowy texture.
Allspice lends nuanced warmth to the dish.
A rich sour cream-spiked pan gravy gently stews the browned meatballs.
Soak up the gravy with boiled potatoes or hefty chunks of dark rye bread.

Bursting with color and tartness,

lingonberry jam is an essential condiment for this dish.
Greek
Keftedes are often part of the crowd of treats on a meze platter.
Lamb, subtly gamey, distinguishes these bite-sized meatballs, but beef and pork can also be used.
Dried mint and oregano are herbs traditionally used in this Mediterranean preparation.

Added judiciously,

cinnamon provides a hint of intrigue.
A yogurt dipping sauce acts as a cool, creamy counterpoint.
Southern Italian
Maybe Italian polpette seem a little obvious, but this southern Italian combination feels fresh.
Grass-fed beef typically has less fat than corn-fed beef, so add an onion-laden panade to ensure deliciously plump and moist orbs.
Sharp, pleasantly dry caciocavallo cheese nods to this preparation's Sicilian roots.
Currants saturated in red wine add a floral, fruity element. Don't add the wine to the meatball mixture; save it to enhance an accompanying tomato sauce.
Toasted pine nuts provide an unexpected crunch.
Thai
Thai cuisine has its fair share of fragrant ground meat preparations, but this rendition is especially punchy.
A combination of

ground pork

and

shrimp

balance one another nicely. Chop the shrimp separately to create more texture.

Lemongrass can be beat up (literally) and added to the skillet while the meatballs cook or thinly sliced and balled up with the rest of the ingredients.
Thai, or bird's eye, chiles are a beautiful bright red and don't skimp on the heat.
Sugarcane is the best type of skewer. Not only does the cane impart subtle, clean sweetness to the mixture, but it can (and should!) be chewed on once the meatball has disappeared.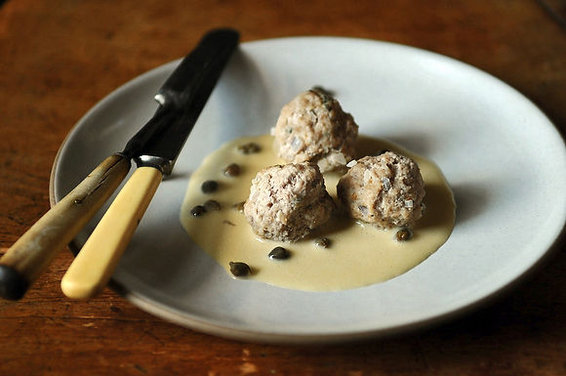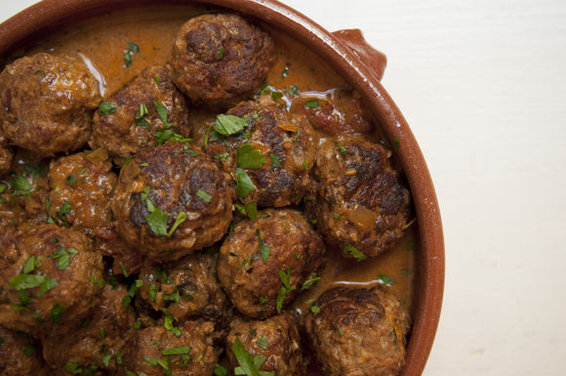 Polpette di Vitello, Tonnato Style and Hungarian Meatballs (photos by Sarah Shatz)
These are just a few of the ways I like to travel by way of meatballs. What other regionally inspired flavors would you use to make these easily portioned packages your own? Share your ideas in the comments section below.
Do you love a good food theme as much as I do? Tell me what food items or themes you'd like to see featured in this column and your idea could be the subject of an upcoming post!
Like this post? See Molly's previous topic: Peanut Butter.
Molly is a chef and food educator living and cooking in northern Wisconsin. When she's not dreaming up themed menus, she's dishing out other delicious content as the editorial assistant for the Whole Foods Market Cooking program.