Photo by Joseph De Leo; styled by Mariya Yufest
Famed cartoon character Popeye introduced generations of Americans to the health wonders of spinach. It's a shame he never tried it fresh! Lucky for us, spinach season is under way and there's no better time to enjoy it.
Originating in ancient Persia, spinach made its way from Nepal to China in the 7th century and then to Europe in the 11th century before landing in the U.S around 230 years ago. From the same family as beets and Swiss chard, spinach's jade colored leaves, barely bitter flavor, and delicate texture make it a widely appealing addition to a range of recipes.
Salads bring out the sweetness in raw baby spinach, and ingredients such as walnuts and slices of apple or pear are often added to provide crunch, which the soft leaves lack. And even though cooking spinach dramatically reduces its volume, sautés, soups, pastas, and more complex dishes like spanakopita (literally "spinach pie"), benefit from the slippery stems, now more concentrated with flavor.
How do you serve these versatile leaves? Share your favorite ways to enjoy spinach in the comments section below. Remember, if you choose to upload a recipe (and we hope you will), please mention it in your comment.
We'll assemble and share some of our favorite ideas next week.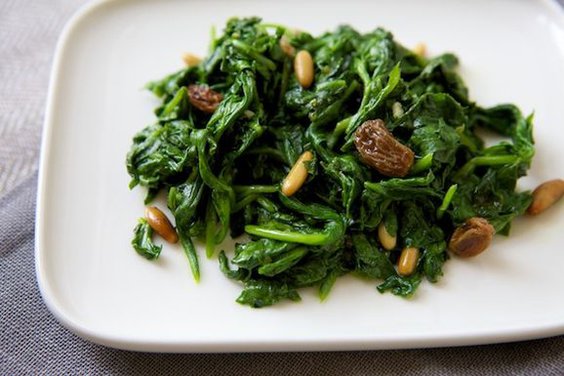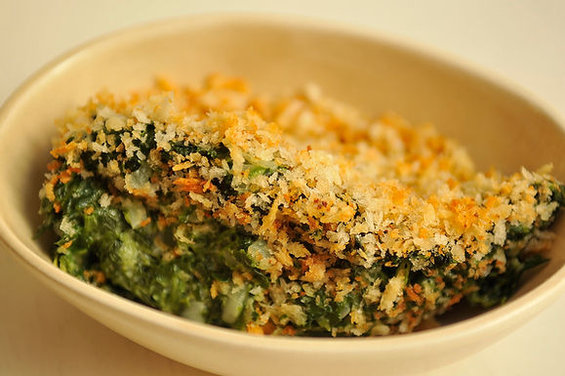 Photos by Nicole Franzen (left) and Sarah Shatz
Recipes
Wilted Spinach with Lemon and Pine Nuts
Grilled Pizza with Spinach and Ricotta Salata
Farro and Herb Pilaf with Sausage, Mushrooms and Spinach
Baked Chicken with Spinach, Pears and Blue Cheese
Spinach Gratin [FOOD52] (pictured above, right)
Spinaci alla Genovese [FOOD52] (pictured above, left)
For more spring produce inspiration, check out our previous topic, Your Best Ideas for Peanuts, and the selection of your best tips and recipes, How to Use Peanuts.