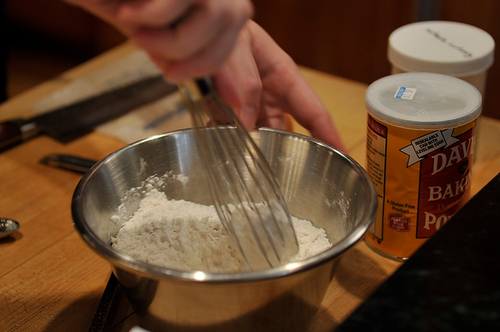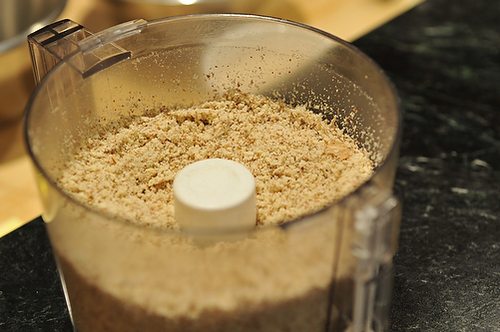 Photos by Sarah Shatz
We've all been here: halfway through a new recipe, you realize the flour called for is cake not all-purpose, or that the milk needed is buttermilk instead of whole. On the cusp of a serious baking weekend with both Easter and Passover presiding, we're offering up several homemade substitutions that promise to get you out of a bind without leaving the kitchen.
Almond Flour or Meal
Process whole, blanched almonds (skin removed) into a fine powder in a food processor.
To make almond meal, go through the same process, but leave the skins on for added texture.
Baking Powder
Combine 2 tablespoons cream of tartar, 1 tablespoon baking soda, and 1 tablespoon cornstarch.
Brown Sugar
For light brown sugar, combine 1 cup sugar and 1 tablespoon molasses and mix well.
For dark brown sugar use 2 tablespoons molasses instead.
Buttermilk
Combine 1 cup milk and 1 tablespoon lemon juice.
Let the mixture sit for 10 minutes (it will thicken), then stir and use as directed.
Cake Flour
For each cup of cake flour, take 1 cup all-purpose flour and replace 2 tablespoons of the flour with 2 tablespoons cornstarch.
Condensed Milk
In a blender, combine 1 cup boiling water, 2 cups sugar, and 1/2 cup butter. Blend thoroughly, then add 4 cups nonfat dry milk powder 1 cup at a time until incorporated (stop at 3 cups for a thinner consistency).
Food Coloring
Extract color from the following ingredients by processing in a juicer, blender, or food processer. If you use a blender or food processor, strain out solids with a fine mesh sieve or cheesecloth.
Pink and red: beets, red currants, red berries, or pomegranate juice
Yellow: turmeric, yellow beets, yellow bell pepper
Green: matcha (green tea) powder, kale, spinach, green bell pepper
Blue and purple: blueberries, blackberries, purple grapes, red cabbage
Powdered Sugar
Pulverize 1 cup sugar and 1 tablespoon cornstarch in a food processor or blender for 1-2 minutes.
Sift thoroughly using a fine mesh sieve to ensure powdered sugar is free of granulated sugar.
Quick-Cooking Oats
Briefly zap regular rolled (old-fashioned) oats in a food processor. Process with just a few short bursts or you'll wind up with instant oats!
Self-Rising Flour
Combine 1 cup flour, 1 1/2 teaspoons baking powder, and 1/2 teaspoon salt.
Still in a bind? Consult the FOOD52 and Whole Foods Market Cooking communities in one go using Foodpickle, our real-time food Q&A!
What homemade substitutions do you rely on? Share your quick-thinking tips and techniques in the comments section below.
Like this post? See last week's From Scratch topic: Chocolate 101.