Photo by Joseph De Leo; styled by Mariya Yufest
Every spring, mushroom enthusiasts toss aside the blooming daffodils and budding lilac bushes for an elusive treat: the morel. Morels are passionately hunted wild mushrooms that have an affinity for freshly burned forest floors and decaying elm trees. Morels thrive in the rainy, warm days of spring and are often paired with other seasonal delicacies like fava beans, ramps, and asparagus.
Believed to have initially sprouted while dinosaurs roamed the earth, humans were the first species to enjoy morels in 130 million years. Though we are happy to take full credit for discovering this delectable fungus, the mushroom's particular properties require a trained eye and disciplined processing. Morels must be cooked to render them edible, as the wild mushroom has trace toxins that are nullified only with heat.
Smoky, earthy, and nutty, morels are a perpetual favorite of chefs across the globe. The morel sports a distinctive cone head with a loose honeycomb texture and a stubby, hollow stem. Its delicate, spongy flesh happily soaks up butter and cream, but also roasts beautifully under high heat for a subtly crisp, savory addition to salads, spreads, and pastas.
How do you serve these sought after 'shrooms? Share your favorite ways to enjoy morels in the comments section below. Remember, if you choose to upload a recipe (and we hope you will), please mention it in your comment.
We'll assemble and share some of our favorite ideas next week.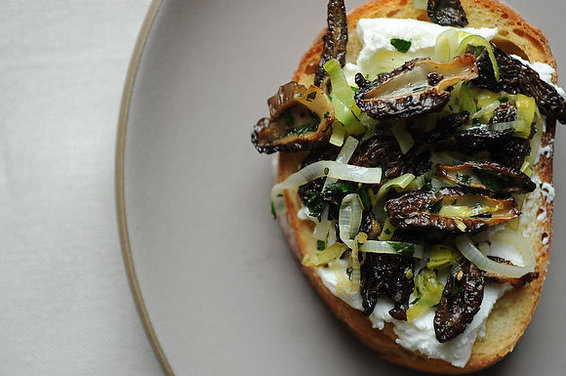 Photo by Sarah Shatz
Recipes
Fusilli with Peas, Morels, Mint and Pecorino [FOOD52]
Mama's Morels Fried in Butter [FOOD52]
Morel Crostini [FOOD52] (pictured above)
For more spring produce inspiration, check out our previous topic, Your Best Ideas for Spinach, and the selection of your best tips and recipes, How to Use Spinach.