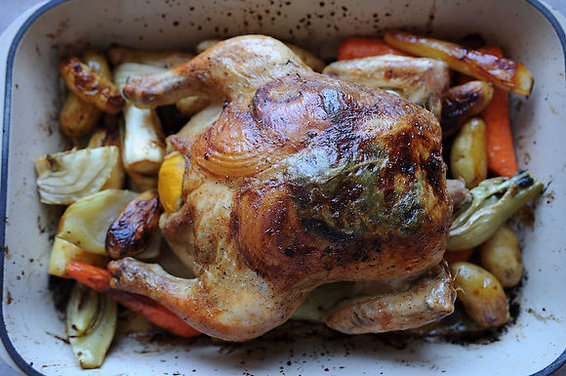 Photo by Sarah Shatz
With its decorative, translucent skin and a smattering of garlicky, lemon-infused roasted vegetables, this perfectly cooked chicken seems almost too good to be true. The bird is given the royal treatment with a selection of Mediterranean-inspired herbs, acids, and oils. Tucked under the skin, settled into the cavity, and tossed in the pan, the flavoring agents of this dish permeate every nook and cranny.
By slipping the onion disks under the chicken skin, the onion works to not only impart flavor, but also increase air circulation under the skin, yielding a crisper result. Plus, the bird gets a lemon juice and olive oil rub down, which does wonders for its self-esteem. Bevi chose this as the dish she wants to be remembered for as part of a FOOD52 contest, and we admit we can't get this chicken out of our heads.
Lemon and Onion Roasted Chicken by Bevi
Serves 4
3 large carrots, peeled
3 parsnips, peeled
1 fennel bulb, quartered
2 handfuls Fingerling potatoes
1 large sweet onion, quartered
1 sweet potato, cut in medium chunks
1 tablespoon salt
1 tablespoon fresh ground pepper
3 tablespoons olive oil
1 (4 to 5 pound) roasting chicken
2 or 3 cloves of garlic, peeled
2 sprigs thyme or rosemary
1 large onion
6 to 8 sage leaves
1 lemon
See the full recipe at FOOD52.
• • • • •
Wine Pairings:
This has white Burgundy written all over it. You could also do a red from there as well, but if ever there was a roast dish made for Chardonnay (the white grape of Burgundy), this would be it. The hearty vegetables and the simple homeyness of the construction belie the complex flavors that will come out of the oven. If you're not feeling Chardonnay, you'll want to stick with a white wine that has a lot of texture and complexity -- try Semillon or Spain's Viura, perfect combos for hearty fare.
Top Picks
2009 L'Ecole No. 41 Columbia Valley Semillon
2010 Lafond Sta. Rita Hills Chardonnay
2009 Domaine Francois Carillon Bourgogne Chardonnay
How do you roast your chicken? What's your secret to achieving crispy skin and moist meat? Share your cooking tips and serving suggestions in the comments section below.
Like this post? See the Make This Tonight topic from last week: Crispy Coconut Tofu with Burning Rings of Fire.