Are you a Meatless Mondays enthusiast but not ready to take the plunge for the rest of the week? Maximize your meat-free meals with personal chef (and Whole Foods Market Cooking recipe tester) Natalie Barbarese's column, The Sometimes Vegetarian, where she shares a mouthwatering, vegetarian recipe every other Monday.
This week: Natalie conquers her fear of risotto.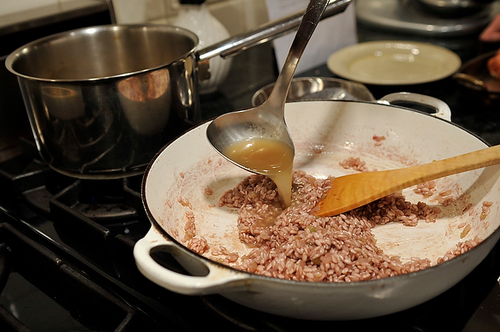 Photo by Sarah Shatz
- Natalie
Let me start out by being completely honest here: I've had a box of Arborio rice in my pantry for about two years now. I'm not proud of hoarding ingredients or murmuring to myself every time I glance at it when I'm reaching for some pasta, "I'll make risotto next week..." It's springtime, so tidy up your kitchen! Grab a lonely can, box, or jar that's been peering out from your pantry and put it to good use. Try something new, give one of your old standards some new life, and see where it takes you.

In my case, I had never attempted to make risotto, which is often surrounded by much controversy regarding proper technique. Like most home cooks, I was also victim to the common rumor that I'd be sweating over a pot of rice absorbing liquid at a snail's pace while my arm was about to fall off from constant stirring. Let me be totally honest again: it's just not true. Risotto is an absolute treat, and after making it for the first time, I can't wait to make it again and try a ton of different variations.

For my first attempt, though, I needed the advice of someone I could really trust, and for that reason I turned to Mark Bittman's How to Cook Everything. His Mushroom Risotto, which folds both dried and fresh mushrooms into creamy rice, is chewy-tender and full of earthy goodness. Pour in some of the liquid from steeping the dried mushrooms and build more flavor with a sautéed onion. To keep everything vegetarian, I used vegetable stock. Bittman even notes in the book that there's no need to hover and stir constantly. The truth is, you need to be very attentive -- take a break to grate your cheese or quickly set the table -- so only let the risotto simmer on its own for about a minute.

Risotto is like a palette that can reflect the bounty of the seasons. There are so many crisp, green spring vegetables I want to try for my next attempt: asparagus, peas, and even ramps or garlic scapes. Don't be intimidated or believe the hype -- risotto is an approachable dish that can round out your stable of favorites and elevate your cooking to a new level.
Like this post? See Natalie's previous topic: Smoked Mozzarella & Cheddar Grilled Cheese Sandwiches.
Natalie is the chef/owner of Broccoli Rose, a personal chef business serving healthy meals to locations within 60 miles of Montclair, New Jersey.