Photo by Joseph De Leo; styled by Mariya Yufest
Native to Asia, this tender perennial herb has been used by many cultures for centuries to treat health ailments, and most likely began its culinary life as a simple tea. Lemongrass' oily properties make its flavor more intense, both complementing delicate ingredients and standing up to rich, strong proteins like salmon and beef. Its grassy, citrusy stalks are well known in Asian cooking, especially Thai and Indonesian cuisines, but the shoot is beginning to step in for citrus in many Western dishes, too.
The herb's pungent flavor pairs well with ginger, chiles, basil, mint, cilantro, and coconut milk, but it plays well with other ingredients, too. Adding lemongrass to cream, egg, and wine sauces will spike the condiment with a refreshing citrus profile and won't curdle the sauce the way lemon juice will. Grate it into salads and dressings; add it to soups and stir-fries; stuff slices into whole fish or chicken before grilling; or use lemongrass stalks as the ridged base of a steaming set-up to add the green, floral perfume to more delicate dishes.
How do you cook with these fragrant stalks? Share your favorite ways to enjoy lemongrass in the comments section below. Remember, if you choose to upload a recipe (and we hope you will), please mention it in your comment.
We'll assemble and share some of our favorite ideas next week.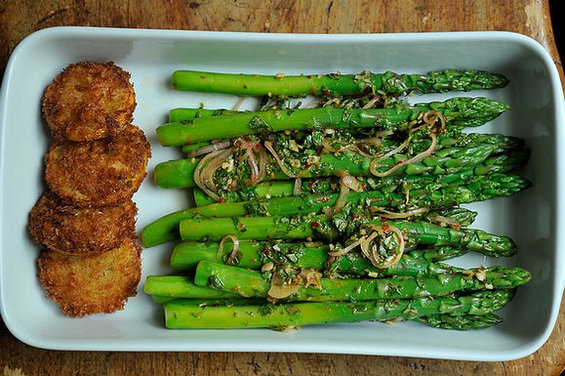 Photos by Sarah Shatz (left) and Joseph De Leo
Recipes
Shiitake-Lemongrass Miso Soup
Thai One On
Pan-Roasted Wild Salmon with Lemongrass and Basil
Asian Lemongrass Kebabs on Fresh Sugarcane Skewers (pictured above, right)
Thai-Inspired Asparagus Salad with Fried Meye Lemon [FOOD52] (pictured above, left)
For more spring produce inspiration, check out our previous topic, Your Best Ideas for Morels, and the selection of your best tips and recipes, How to Use Morels.