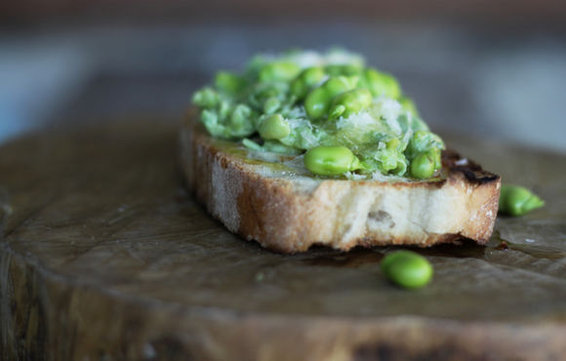 Photo by Emiko
In fashion, there's an old maxim that applies to editing a look: As soon as you've finished dressing and adorning yourself with accessories, take one thing away. Surely this can be applied to food, as well. After decades of fussy food, where "more" was often equated to "better," we're experiencing a movement to return to simplicity, to let the ingredients speak louder than the person putting them on the plate. Instead of expanding our shopping lists, we're diversifying them, finding new flavors through the land, exploring different types of beans, grains, and vegetables from week to week.
Not only does this focus on ingredients elevate the importance of local foods and seasonality, it narrows the gap between the restaurant chef and the home cook. Increasingly, these two groups are working with ingredients of the same high quality. You could even argue, when compared to some restaurants, home cooks have regular access to better ingredients, as they're able to purchase on a smaller scale, to patronize lower-output, local farms.
In this way, ingredients like fresh fava beans are gaining popularity. In season now, these beans are best left to shine on their own, muddled raw with lemon juice, olive oil, and Pecorino, perched atop toasted bread. The only thing to "take away" is a bite.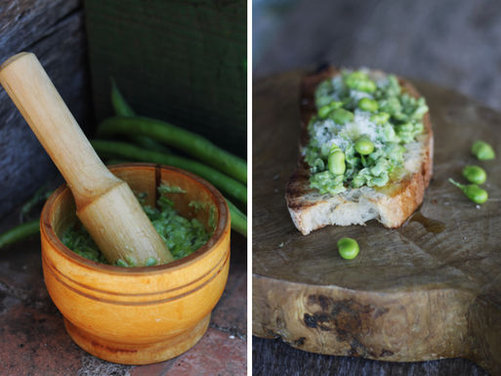 Photo by Emiko
Raw Fava Bean Crostini by Emiko
Serves 4
2 pounds fava beans in their pods
Juice of one lemon
1 loaf of ciabatta bread
Handful of grated semi-aged Pecorino cheese
Several glugs of extra virgin olive oil
Salt and pepper to taste
Fresh herbs such as mint, tarragon, or basil
1 clove of garlic (optional)
See the full recipe at FOOD52.
• • • • •
Wine Pairings:
We ate this a few nights ago at the start of our dinner. Actually, it almost became our dinner as we forgot about the rest of it once we started eating these. We drank some Prosecco, as is often the case when we're starting out, and it was a good match. If I were to do it over again, I'd probably pick a sparkler that's Chardonnay dominant as those flavors lend themselves to green and gold, the color of the beans and bread. If you have a mind for still wine, drink a Chablis, troken (dry) style Riesling from Germany or Austria, or have some Grüner Veltliner.
Top Picks
Jean-Louis Denois Brut "Tradition," France
2010 Josef Leitz Rüdesheimer "Eins Zwei Dry" Riesling Trocken, Germany
2010 Maison William Fevre Chablis "Champs Royaux," France
• • • • •
What would you serve alongside these fava-topped toasts to make a complete meal? Share your menu ideas in the comments section below!
Like this post? See the Easy Everyday topic from last week: Prosciutto-Wrapped Asparagus.