A healthy eating specialist at WFM Columbus Circle and WFM Union Square, Kelly Dupuis believes in eating foods without labels (an ear of corn, a ripe tomato). As a proponent of plant-based diets, she eschews packaged substitutes offering a quick fix. For Kelly, it's all about cooking from scratch. In her weekly column, Comfort Food - Refreshed, Kelly doesn't just adapt her favorite comfort foods to her plant-strong lifestyle, she reimagines them in original recipes with a wink to the past.
This week: Kelly freshens up the classic pb & j.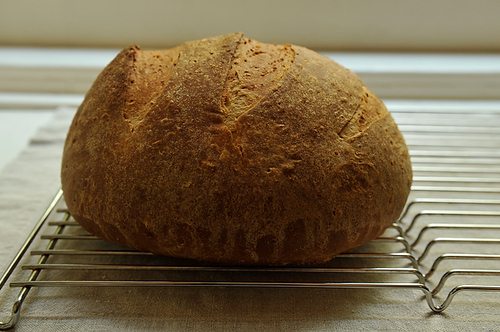 Photo by Sarah Shatz
- Kelly
Ah, the peanut butter and jelly sandwich, a true American classic. When peanut butter first came onto the scene in the late 19th century, it was marketed as a health food. True story! Peanut butter was a high-protein and nutritious spread for folks seeking out non-meat protein sources. Peanut butter was also pretty darn inexpensive, so by the Great Depression, folks were eating it by the jarful. And because of the ease of preparation, the peanut butter sandwich was a big hit with kids who were in charge of making their own lunches. And it traveled well in a knapsack. But when and how did jelly enter the peanut butter sandwich equation? I can't seem to find a clear answer to that. Such a mystery, that thing called jelly. But here's what I like imagining:
Some kid in overalls and a plaid flannel shirt is eating peanut butter by the spoonful right out of the jar while riding on the back of a truck coming from the strawberry farm. Suddenly, the truck stops fast (avoiding a cow crossing the dirt road) and a bin of strawberries flies into the air. The strawberries come tumbling down from the sky and one falls directly onto the kid's spoon, sticking there on top of the peanut butter. (Due to peanut butter's amazing adhesive properties, of course.) The kid, being adventurous, pops the spoonful of peanut butter with the strawberry on top into his mouth. He chews and finds the combination a glorious, glorious thing.
That night, the farmer gives the kid a quart full of strawberries as payment for a day's work. The kid takes home the strawberries, but his older brother sits on the berries because he's a bully and yearns to destroy the kid's happiness. However, the kid grabs the quart of mashed strawberries, undefeated. Yes, he is inspired. The kid spreads the mashed strawberries onto one slice of bread. He spreads peanut butter onto the other slice. He puts the slices together. He takes a bite. He is in love. These things come together like he couldn't have ever imagined between two slices of bread. His brother attempts to steal away his kid brother's new brilliant sandwich. The older brother does not succeed. The kid runs away into the field, faster than his brother, sandwich in hand.
I love peanut butter and jelly. I also love almond butter and cashew butter and sunflower seed butter. And more than preserves or jam or jelly, I love fresh fruit. That's right. I hearken back to the day that kid was on the farmer's truck. And when I make my version of peanut butter and jelly, I start with whole-grain sprouted bread. I slather crunchy almond butter onto one slice, then top it with fresh fruit. I sprinkle on some extra special surprises, and imagine that my pb&j -- or AB & FF (Almond Butter and Fresh Fruit) -- is worth stealing. If you can catch me.
AB & FF (Almond Butter and Fresh Fruit Sandwich)
Serves 1
2 slices sprouted whole grain bread, toasted or not toasted (I love Ezekial Cinnamon Raisin for this sandwich!)
2 tablespoons no salt, sugar, or oil added almond butter
1 teaspoon honey
1/2 ripe banana sliced
4 strawberries sliced
1/2 teaspoon ground cinnamon
1 teaspoon unsweetened flaked coconut
See the full recipe (and save and print it) here.
Stop by for cooking advice!
Do you need help with maintaining a healthy diet? Drop by WFM Columbus Circle or WFM Union Square to chat with me about this recipe and plant-strong cooking tips.
Like this post? See Kelly's topic from last week: Sloppy Mushroom Joes.
Kelly Dupuis is a healthy eating specialist at WFM Columbus Circle and WFM Union Square who delights in transforming comfort classics into deliciously satisfying and fun plant-based dishes.