Photo by Joseph De Leo; styled by Mariya Yufest
Welcoming the warm breeze of late spring with the tropical zing of pineapple feels just right, as the fruit has long been a traditional symbol of hospitality. According to legend, when first receiving pineapple in his court, King Louis XIV was so eager to taste the exotic fruit he took a bite without peeling it and cut his mouth on the crowned fruit's horned skin. Centuries later, the world is still enamored with this Brazilian import and its sweet-tart flavor.
Popular in tropical dishes and Latin and Asian cuisines, this juicy fruit is known for its acidic properties, which help prevent other fruits and vegetables from oxidizing and balance hot spices. Also, an enzyme in pineapple called bromelain tenderizes animal proteins by breaking down the protein in collagen, a tough substance that gives structure to muscle tissue.
Pineapple marries well with pork, seafood, and poultry, especially when its partner on the plate is grilled. It also adds zing to salsas, salads, and smoothies. This armored fruit shines in sweet preparations as well, with desserts like pineapple upside-down cake leading the charge.
How do you utilize this tufted fruit? Share your favorite ways to enjoy pineapple in the comments section below. Remember, if you choose to upload a recipe (and we hope you will), please mention it in your comment.
We'll assemble and share some of our favorite ideas next week.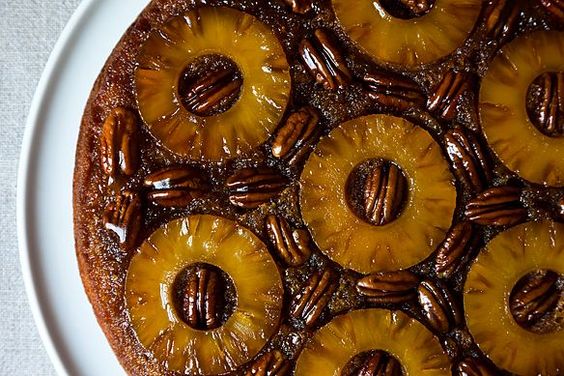 Photos by James Ransom (left) and Jody Horton
Recipes
Spicy Chocolate-Dipped Pineapple with Sea Salt
Fresh Pineapple Salsa
Pineapple-Chicken Kabobs with Quinoa (pictured above, right)
My Mom's Pineapple Upside-Down Cake [FOOD52] (pictured above, left)
Chili el Pastor [FOOD52]
My Favorite Pina Colada [FOOD52]
For more spring produce inspiration, check out our previous topic, Your Best Ideas for Lemongrass, and the selection of your best tips and recipes, How to Use Lemongrass.