A healthy eating specialist at WFM Columbus Circle and WFM Union Square, Kelly Dupuis believes in eating foods without labels (an ear of corn, a ripe tomato). As a proponent of plant-based diets, she eschews packaged substitutes offering a quick fix. For Kelly, it's all about cooking from scratch. In her weekly column, Comfort Food - Refreshed, Kelly doesn't just adapt her favorite comfort foods to her plant-strong lifestyle, she reimagines them in original recipes with a wink to the past.
This week: Kelly goes deep into potato salad theory.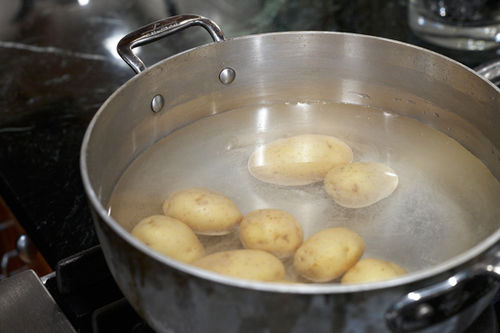 Photo by William Brinson
- Kelly
When it comes to family food rituals, so-and-so's "famous potato salad" always finds a way on the short list. Schools of thought in the realm of potato salad construction vary. I will now go into this.
First, we have who I call The Purists. They deal with potato salad made simply from white potatoes, mayonnaise, minced celery and onion, salt, and pepper. Then there's The Basic Flourishes Folk. This group adds a couple tablespoons of red wine vinegar and sugar for tart-ification purposes and to sweeten it up. Next up is The Condiment Creative Crew. This subset adds pickled relish and/or hard-boiled egg. Really, those are the basic groups. Once you get into red potatoes for color, mustard-based dressings instead of mayo for hot-day picnic safety, and fresh dill and red paprika for glitz and glamour, you're really getting deep into it. You know who got "deep into it?" Mrs. LeCourt.
Mrs. LeCourt was my cousins' grandmother, a darling old lady with strawberry blonde hair and circular glasses who always looked like she'd dressed up for the occasion. At any family gathering in springtime, Mrs. LeCourt brought her potato salad to the red-and-white-checked table. She was definitely part of The Condiment Creative Crew. Her potato salad was full of all of the good stuff. But she also added bacon which was a true indulgence and texturally, as the kids say, dope.
But, for me, the real key to the success of Mrs. LeCourt's potato salad, was the fact that she mashed half of the potatoes and left the other half of the potatoes cubed. Yup -- Mrs. LeCourt knew about mouthfeel! She made the biggest bowl of potato salad and it always got totally gobbled up. The women must have boiled 15 pounds of potatoes to create that dish. Mrs. LeCourt was a soldier for potato salad. A real trooper. And also a leader. No one else dared attempt it, really. My mom might have brought macaroni salad and her equally famous fruit salad to the affair, but potato salad was Mrs. LeCourt's domain. As it should have been -- she had a gift.
Of course, there must be room for me in this whole potato salad thing. And there has to be room for green! Potato salad generally has one really big fault in my opinion: the color. It's generally a big white pile, which to me doesn't exactly shine.
So what's my green take on it? I add asparagus! What says springtime crunch more than beautiful, seasonal asparagus? Trimmed and cut into thirds, it's awesome next to these creamy little potatoes. But the green doesn't stop there. Instead of mayonnaise, I use pesto. Hot baby Yukons soak up my herb-walnut pesto like nobody's business. And the pesto is, of course, plant-based, with no olive oil. That may surprise you! Pesto is made of olive oil, you say. That doesn't have to be the case in my world. Load it up with lemon and fresh herbs and thin it out with vegetable broth, and you have a creamy, beautiful sauce that makes for a truly unique potato salad. Change up the herbs and nuts if you want. Rebellion is, of course, welcome in the world of potato salad.
Potato and Asparagus Salad with Herb-Walnut Pesto
Serves 8
2 pounds baby Yukon Gold potatoes (or small yellow potatoes!)
1 pound asparagus, tough ends discarded, chopped into 3-inch segments
1/2 cup walnuts
1 1/2 cup fresh chopped basil
1 1/2 cup fresh chopped Italian flatleaf parsley
1/3 cup nutritional yeast (I use Bragg's brand)
4 cloves garlic, smashed
Juice of one lemon
1 cup low sodium or no salt added vegetable broth
Water if needed to thin out pesto
Sea salt and fresh ground pepper to taste
See the full recipe (and save and print it) here.
Stop by for cooking advice!
Do you need help with maintaining a healthy diet? Drop by WFM Columbus Circle or WFM Union Square to chat with me about this recipe and plant-strong cooking tips.
Like this post? See Kelly's topic from last week: AB & FF (Almond Butter and Fresh Fruit Sandwich).
Kelly Dupuis is a healthy eating specialist at WFM Columbus Circle and WFM Union Square who delights in transforming comfort classics into deliciously satisfying and fun plant-based dishes.