A healthy eating specialist at WFM Columbus Circle and WFM Union Square, Kelly Dupuis believes in eating foods without labels (an ear of corn, a ripe tomato). As a proponent of plant-based diets, she eschews packaged substitutes offering a quick fix. For Kelly, it's all about cooking from scratch. In her weekly column, Comfort Food - Refreshed, Kelly doesn't just adapt her favorite comfort foods to her plant-strong lifestyle, she reimagines them in original recipes with a wink to the past.
This week: Kelly turns to firm tofu and turmeric for mock scrambled eggs.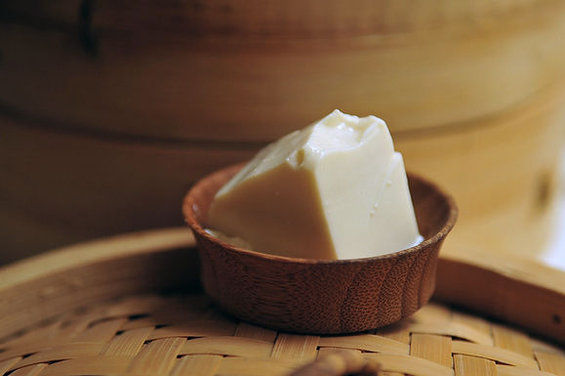 Photo by Sarah Shatz
- Kelly
So, brunch. Who doesn't love this classic breakfast-lunch combo? Of course, by the time brunch rolls around, I'm generally famished. Or a bit frustrated by the wait in line. (I've mentioned this before here on the blog -- sorry! I don't like lines for the first meal of the day. Apparently, patience is a Sunday-morning-dining-in-the-village virtue.) On occasion, I've wanted to make the naughtier choice at brunch. It would be a truly remarkable moment in human evolution if we'd all reach for the kale instead of the bread basket when we experience frustration or hunger pangs, but I digress!
All in all, brunch is sort of made for indulgences. I mean, honestly. It's a delightfully starchy, eggy, sweet time of day. One of my all-time favorite brunch items is a scramble. You know, a mess of scrambled eggs with a bunch of deliciousness mixed in. It's a world full of possibilities, the scramble. Veggies, cheese, meats, sometimes herbs, sometimes potatoes, a scramble is not the prettiest dish in the world. It's not precious like two perfectly poached eggs covered in sunshine-y hollandaise sitting atop two flawlessly toasted English muffins. Nope, a scramble is meant to be a pile of goodness with no bells or whistles, no great fanfare. Just loads of texture and flavor -- the kind of dish that has your fork returning back to the plate, over and over again. Scrambles are addictive.
But what does one do when one does not eat eggs? Where does that leave one in the brunch world, the world of beloved scrambles? One crumbles tofu. For real. It's a miracle of the plant-strong world, really. You start by draining some extra-firm tofu for an hour (or however long you want). You do this by putting the tofu block on a plate, covering the plate with another plate, and then sitting a couple big cans of tomato sauce atop that top plate. After the tofu has drained (you won't believe how much water will be on the plate!), then comes the fun part. You take the tofu in your hands and squeeze, so that it crumbles, sort of like feta cheese. The draining of the tofu creates a denser soy product and one that won't waterlog your scramble. Then sauté some veggies: shallots, peppers, asparagus, and mushrooms. Add some spinach or even Swiss chard, pop in the tofu crumbles, then flavor with tamari, garlic, and turmeric! Turmeric is extremely good for you -- it's one of the most powerful spices on the planet -- and it will also give your tofu crumbles a beautiful yellow hue, reminiscent of classic scrambled eggs. And we eat with our eyes first, as they say. So try my tofu scramble today. For breakfast, lunch, or, you know, brunch!
Tofu and Fresh Garden Veggies Scramble
Serves 4-6
1 package extra firm tofu
1 tablespoon low sodium tamari
2 teaspoons tumeric powder
1 teaspoon fresh ground black pepper
10 ounces mushrooms, sliced
1 shallot, thinly sliced
1 red bell pepper, seeded and chopped
3/4 pounds asparagus, trimmed and cut into 3 inch pieces
2 garlic cloves, minced
1 cup baby spinach
Water or vegetable stock (optional for deglazing)
Salt and pepper to taste
See the full recipe (and save and print it) here.
Stop by for cooking advice!
Do you need help with maintaining a healthy diet? Drop by WFM Columbus Circle or WFM Union Square to chat with me about this recipe and plant-strong cooking tips.
Like this post? See Kelly's topic from last week: Potato and Asparagus Salad with Herb-Walnut Pesto.
Kelly Dupuis is a healthy eating specialist at WFM Columbus Circle and WFM Union Square who delights in transforming comfort classics into deliciously satisfying and fun plant-based dishes.