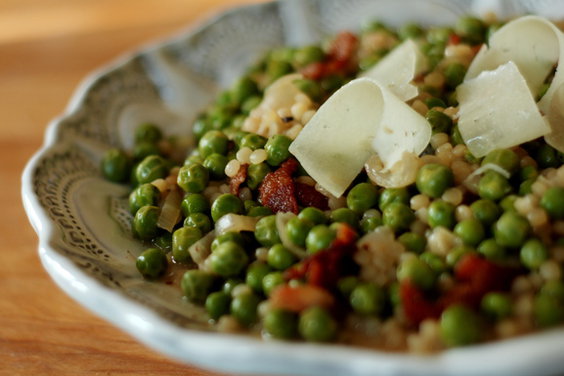 Photo by cottageindustrialist
Fess up: At this very moment, lurking within your kitchen cupboard or fridge is an ingredient that would implore if you if it could, as in, "You bought me. Now what?" Perhaps it's that jar of jalapeño jelly. Or that bottle of pomegranate molasses. Or, just maybe, it's a box of Israeli couscous. Adding it to your shopping cart seemed like a good idea at the time. You imagined making it as a side to sop up sauce, just like they do at your favorite restaurant. But, alas, when the next sauce-sopping opportunity arose, you reached for your steady partner, rice, instead. Next time, consider this: Israeli couscous is a quick-cooking pasta that can be prepared just like rice. The tender-chewy flattened pearls shine when cooked with other ingredients in just enough liquid to be absorbed by the starch. So there's no new method to learn on a weeknight, just an ingredient swap.
Cottageindustrialist has this method down. Her inspired take on Israeli couscous cleverly relies on that age-old favorite flavor booster, bacon. She sautés it until crisp, then quickly builds another dimension in the dish by toasting the couscous in its rendered, smoky fat. That crisped bacon, added at the end, amplifies the umami-laden goodness from the fat -- plus, let's not forget that its the unofficial chaperon of peas, the other star of this dish, so its attendance is practically mandatory. A squirt of lemon lightens and brightens, and, along with Pecorino and thyme, creates a unifying flavor profile much like a more labor-intensive sauce would.
So, there you have it -- one very good reason to reach for Israeli couscous more often. Now if you could only figure out what to do with that tin of Lyle's Golden Syrup.

Photo by cottageindustrialist
Israeli Couscous with Peas and Bacon by cottageindustrialist
Serves 4
3 ounces bacon, sliced into thin strips.
1 shallot, thinly sliced
1 lemon
1/2 cup Israeli couscous
1 tablespoon fresh thyme
1 3/4 cup water
8 ounces fresh, shelled English peas
1/4 cup Pecorino Romano, grated
Salt and pepper, to taste
See the full recipe at FOOD52.
• • • • •
Wine Pairings:
This is some of my favorite kind of food; I could eat this every day. The wine I would drink most often with this dish is Friulano, a white with great body, racing acidity, and flavors of herbs, citrus, and green vegetables. It's a great match for bacon and peas. You could also drink Grüner Veltliner, often described as having green bean and pea aromas. Beside those two, any old world white like Chardonnay or Pinot Grigio would be good.
Top Picks
2010 Nigl Grüner Veltliner Kremser Freiheit, Austria
2010 Livio Felluga Friulano, Italy
• • • • •
How would you riff on this simple side? Would you use a different cured meat or hard cheese? What about a hearty grain in place of the couscous? Share your cooking tips and serving suggestions in the comments section below.
Like this post? See the Easy Everyday topic from last week: Naughty Rhubarb Scones.