In her biweekly column, A Shared Tradition, CIA grad and amateur food historian Molly Siegler cruises around the world (and into the depths of her pantry) to explore the versatility of a single food item.
This week: Molly's puddin' on the ritz.
- Molly
Pudding is one of those great words that is not only a riot to say (mumble it aloud a few times and I dare you not to giggle), but also encompasses so many luscious preparations. I was never a JELL-O pudding cup kind of girl -- despite Mr. Cosby's best efforts -- but I have always been crazy for silky-smooth desserts. Plus, anything that can be eaten with a demitasse spoon is tops in my book.
This post focuses on creamy, custardy puddings, but look forward to a round of cakey, grain-based pudding preparations in the future. These puddings are held together by sheer will (and cornstarch and eggs and tapioca). No bread, cornmeal, or rice allowed.
Italian
Word on the street is that Pizzeria Mozza's Butterscotch Budino is one of the best desserts in Los Angeles. I'm proud to say I've tried it and concur.
As budino means pudding in Italian and most pudding requires cornstarch, you'll find it here, too.
Dark brown sugar creates the caramelized base of the butterscotch.
Crème fraîche cuts through the sweetness of the budino while respecting its signature structure.
A sprinkling of sea salt sets off the sweetness and sneaks in a welcome crunch.
French
Pots de crème of any ilk are becoming the standard by which a decent pudding is judged. These baked custards require a water bath to achieve the desired ethereal texture.
Heavy cream is essential for this satiny pudding. Swap out some cream for whole milk if you're feeling virtuous.
Chunks of dark chocolate melt seamlessly into the cream.
Egg yolks stand in for cornstarch as the pudding's thickener, lending a silky feel and upping the richness quotient.
Whipped cream with a dusting of nutmeg or cinnamon makes the perfect topper.
American
Tapioca pudding is rumored to have been born in the late 19th century in the kitchen of a Boston boarding house.
Pearled tapioca not only provides the tiny, chewy marbles that inflect this pudding, but operates as the thickening agent as well.
Whole milk holds the comforting preparation together.
Vanilla (in bean or extract form) infuses the custard base with its classic warm scent.
A flourish of lemon zest or sprinkling of roasted almonds caps off the presentation.
Welsh
Flummery's modern incarnation is as a thickened fruit jam, though it was originally more of an oatmeal. This pudding has a Swedish cousin in bärkräm.
Ripe, in-season fruit is stewed with sugar and smashed to create a deeply flavored liquid. Try rhubarb or strawberries now and raspberries or blueberries later this summer.
Cornstarch and milk or water are whisked into the strained fruit sauce to thicken things up.
A squeeze of lemon juice ensures the pudding is balanced and bright.
Drizzle a dram of cream over the flummery before serving.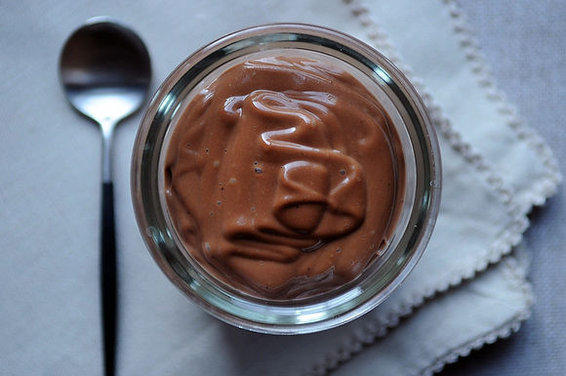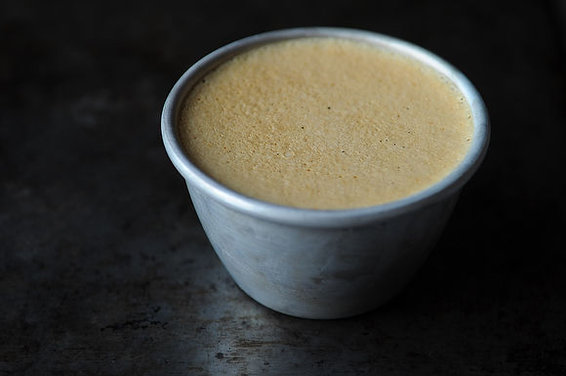 "Nutella" Pudding (left) and Burnt Caramel Pudding
These are just a few of the ways I like to travel by way of pudding. What other regionally inspired flavors would you use to make this velvety dessert your own? Share your ideas in the comments section below.
Do you love a good food theme as much as I do? Tell me what food items or themes you'd like to see featured in this column and your idea could be the subject of an upcoming post!
All photos by Sarah Shatz.
Like this post? See Molly's previous topic: Chicken Breast.
Molly is a chef and food educator living and cooking in northern Wisconsin. When she's not dreaming up themed menus, she's dishing out other delicious content as the editorial assistant for the Whole Foods Market Cooking program.