Photo by Nicole Franzen; styled by Mariya Yufest
Scallions are the tender, young seedlings of the onion bulb. Also known as green onions, scallions have a milder, sweeter taste than their grown-up brethren, and are also much more delicate in texture. Though there is no difference (other than vernacular) between scallions and green onions, spring onions are slightly older and have a partially developed bulb. Both of these onion varieties are by-products of thinning thickly seeded fields to allow room for maturing onions to reach full size.
While no one knows for certain where onions -- and specifically scallions -- originated, there is evidence that ancient Greeks and Egyptians used to harvest them. Because scallions have been a staple of Asian cuisine for millennia, it's not surprising some consider the green stalk to be a primordial Asian herb.
Today, scallions are globally pervasive. Their light oniony flavor is perfect for salads, dips, and dressings. Easily sliced or cut with scissors, they form the base of Chinese stir-fries (along with ginger and garlic) and pair beautifully with spring vegetables, citrus, and seafood. Left whole, they can be braised or roasted as an enticing side dish to heftier proteins.
How do you use these fragrant shoots? Share your favorite ways to enjoy scallions in the comments section below. Remember, if you choose to upload a recipe (and we hope you will), please mention it in your comment.
We'll assemble and share some of our favorite ideas next week.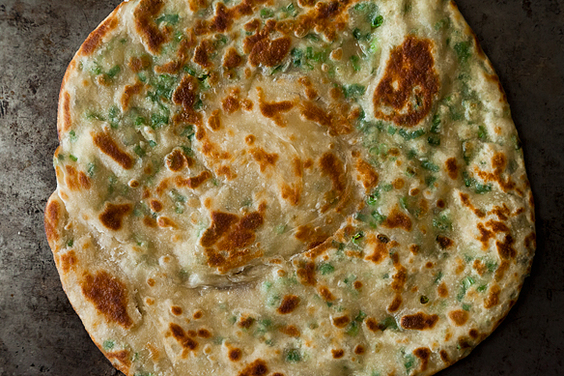 Photos by James Ransom (left) and Tricia Martin
Recipes
Spring Into Summer Potato Salad (pictured above, right)
Shades of Green Asian Pasta Salad
Spring Pea and Herb Salad
Asian Inspired Pork Burgers
Black Rice with Sweet Potato and Scallions
Molly Steven's Sweet Braised Whole Scallions [FOOD52]
Scallion Pancakes [FOOD52] (pictured above, left)
For more spring produce inspiration, check out our previous topic, Your Best Ideas for Avocado, and the selection of your best tips and recipes, How to Use Avocado.