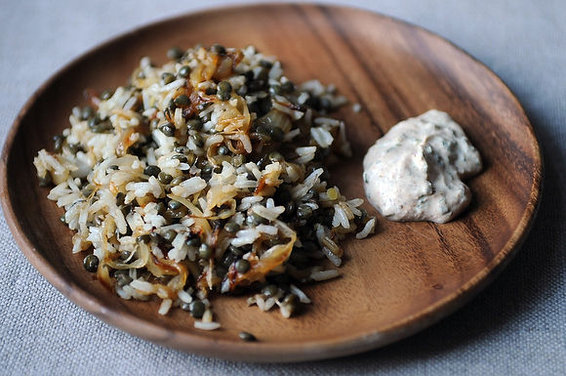 Photo by Sarah Shatz
According to culinary lore, Esau sold his birthright to his brother, Jacob, for a helping of the lentils and rice dish known as mujaddara (often pronounced moo-jah-d'rah) in the book of Genesis. This story gave birth to the saying, "A hungry man would be willing to sell his soul for a dish of mujaddara." Take one bite of Rivka's pilaf-like version of this dish and you'll understand the impetus behind these words. It's not just hunger.
Like any comfort food (and this is one -- perhaps just one you may not have met yet), mujaddara has the power to do more than fill up bellies. In terms of nutrition, the dish combines lentils and rice to form a complete protein. As for entertainment, it delights our senses with varying textures and temperatures -- crisp-edged caramelized onions, fluffy rice, tender lentils, cooling yogurt -- and by allowing us to play with our food, mixing in dollops of spiced yogurt to taste. Mujaddara may remind some of lean times, and others of lavish feasts (albeit in such cases the dish typically includes meat). But the current running through it -- the unwavering deliciousness of ancient and winning flavors -- is equalizing and everlasting.
Now, while the origin of this recipe is biblical, the yield isn't. Since the taste actually improves after the flavors have time to take heed of one another in the fridge overnight (even over a couple nights), consider making a double batch. It will take nearly the same amount of time, and you'll have this filling triad of lentils, onion, and rice to look forward to for a few more days. Or, take the opportunity to throw a meatless dinner party. There's something incredibly impressive about a cook who is confident enough to turn these humble ingredients into the centerpiece of an elegant meal.
Mujaddara with Spiced Yogurt by Rivka
Serves 4
For the Mujaddara:
3/4 cups Puy lentils (aka French lentils, the tiny dark brown ones)
1 teaspoon salt, divided
1 cup jasmine rice
2 tablespoons butter
3 tablespoons olive oil
6 cups onions (about 3 medium onions), halved and thinly sliced
For the Yogurt:
1/2 cup Greek yogurt
1/2 teaspoon cinnamon
1/2 teaspoon cumin (freshly ground, if possible)
1/2 teaspoon coriander (freshly ground)
1/2 teaspoon spicy paprika or aleppo pepper
3 tablespoons chopped fresh mint
Juice and zest of half a lemon
1/4 teaspoon salt
See the full recipe at FOOD52.
• • • • •
Wine Pairing:
I'm a late arrival to lentils, but now that I've arrived, I'm hooked! This is a complex dish with many layers of flavor. You can go two ways: easy and compliant, or racy and complementary. If you want the easy and compliant route, drink some Pinot Grigio, rich and textural, but not palate fatiguing. If you're looking for something that is going to give this dish a run for its money, try a Chenin Blanc from Vouvray in the Loire Valley. These wines can be dry or a little sweet -- both will be delicious. If you like your wine on the dry side, look for "sec" on the label; if you want a little more sweetness keep an eye out for "demi-sec."
Top Pick
2010 Pierre et Catherine Breton "La Dilettante" Vouvray Sec
Have you made mujaddara before? How did that recipe differ from this one? Share your thoughts and cooking tips in the comments section below.
Like this post? See the Make This Tonight topic from last week: Lamb Kabobs.