Photo by Nicole Franzen; styled by Mariya Yufest
Mix up your grilling routine this summer with a battalion of specialized skewers. Skewers come in all shapes and sizes from short, wooden sticks to long, flexible stainless steel wires. You can get away with only having one type of skewer on hand, but these options will significantly elevate your game with the flames. Here are some of our favorite tools for handling the heat and securing morsels of veggies and meat.
Wooden and Bamboo
Wooden skewers should be used for more delicate ingredients that don't require extended time on the grill, as they can burn or break.
Soak the skewers in water for at least 20 minutes before threading with ingredients. The soak protects the skewers from burning. A rectangular baking dish works nicely here.
Wrapping exposed ends of the skewers in aluminum foil before they hit the grill will shield them from the flames and prevent ingredients from sliding off.
One drawback of using wooden skewers is that they must be disposed of after one use.
Round and Flat Metal
Metal skewers heat up quickly and have the ability to cook skewered food from the inside, as well.
Slim, round skewers are inexpensive and versatile -- choose small cuts of meat and vegetables for the best results.
Flattened, sword-like skewers are ideal for threading ground meat kabobs or larger pieces of meat.
Double-Pronged and Forked
Double-pronged skewers work well for stabilizing round items, like cherry tomatoes, and fragile items that need extra support, like halved stone fruit.
Skewers of this type can also be used to stretch and secure ingredients, like shrimp or chicken wings, which would swing about otherwise.
Taking the multi-pronged approach a bit further, forked skewers (see middle skewers in the image above) allow for multiple items to be cooked at the same time without touching (e.g. a batch of marshmallows for individual s'mores).
Flexible Stainless Steel Wire
Flexible wire skewers are usually much longer than other skewers on the market. Their length and pliability allows you to coil the skewer around itself or snake it around other foods, maximizing space atop the grill.
The wire is pliable and thin, with one end of the skewer looped and the other end capped with a pointy tip to prevent food from slipping off.
The bendable construction allows skewers to be threaded with ingredients, wound into a coil, then placed in a zip-top bag or container for marinating. (No more skewering foods with marinade running down your arm!)
One drawback to large wire skewers is that you can't dole out individually portioned skewers onto waiting plates -- all food cooked on these wires must be removed before serving (unless, of course, you're cooking for athletes at the Olympics).
Edible Skewers
Lemongrass should be stripped of any loose outer layers and soaked in water just like wooden skewers.
Wrap ground meat or shrimp around husky sticks of sugar cane to impart a clean sweetness.
Rosemary stems are stiff enough to handle tender meat and veggies. Soak the skewers before stacking on ingredients, then wrap any exposed leaves with aluminum foil to minimize the risk of a flare up.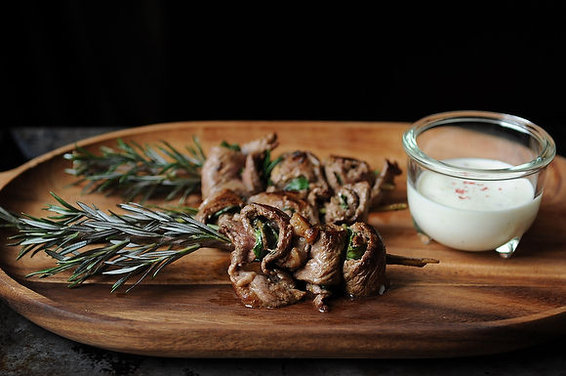 Photos by Joseph De Leo (left) and Sarah Shatz
Recipes
Beef Skewers with Romesco Sauce (pictured above, left)
Chicken Tikka - Spice Marinated Grilled Chicken Kebabs
Pineapple-Chicken Kabobs with Quinoa
Souvlaki - Meat on a Stick
Asian Lemongrass Kebabs on Fresh Sugarcane Skewers
Herbed Beef Skewers with Horseradish Cream [FOOD52] (pictured above, right)
Tuscan Grilled Zucchini & Summer Squash [FOOD52]
What sort of skewer do you reach for most often and why? Share your cooking tips in the comments section below.
Like this post? Check out last week's From Scratch topic: Intro to a "Raw" Diet.