In her biweekly column, A Shared Tradition, CIA grad and amateur food historian Molly Siegler cruises around the world (and into the depths of her pantry) to explore the versatility of a single food item.
This week: Molly puckers up to four pickled vegetable preparations from across the globe.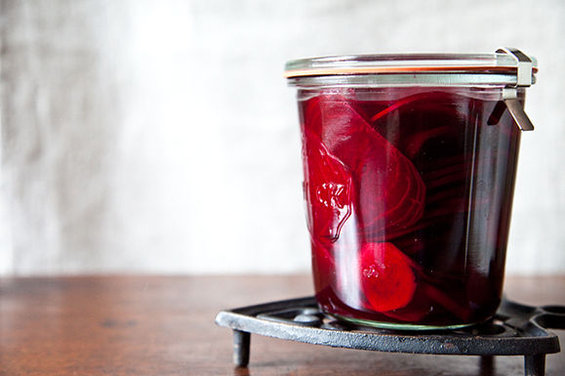 Gingered Beet Pickles (photo by James Ransom)
- Molly
I was a late bloomer in the realm of pickles. I think I thought the giant dill pickles encapsulated in their own brining juices and heavy plastic were the only pickles out there. And those were, in my mind, decidedly not cool.
I am now making up for lost time with pickles at every turn -- I sometimes go for a full-on acid wash party intentionally (and happily) à la Amanda Hesser. Even though I love quickly pickled sour cherries and vinegar-saturated mango fingers, we're sticking to veggies for this round.
Southern (U.S.)
The pickled relish chow chow has zig-zagged its way across North America, settling in several regions as a tabletop staple.
Green tomatoes are firm, faintly sour, and can satisfy the urge to pluck a few fruit off the vine before they're ready.
Mirliton (a.k.a chayote) injects a squash-like Louisiana vibe.
It's hard to imagine anything pickled without mustard seeds.
Cider vinegar is a sweet and nuanced pickling agent.
Japanese
Tsukemono, or Japanese pickles, find themselves at nearly every meal. Kyuri Zuke is a cucumber-based version.
Japanese cucumbers are thin-skinned, bumpy, and only a couple inches in diameter -- ideal for a quick pickle.
Clean and malty rice vinegar is offset by a sprinkling of white sugar.
Wakame layers the pickle with chewy, brackish sheets.
Soy sauce contributes a salty, low note.
Scatter sesame seeds over the pickle just before serving.
Italian
Giardiniera is an adored Italian condiment. Bar La Grassa in Minneapolis greets you at the door with a tiny bowl of their olive oil-drenched version studded with giant white beans. Last time I visited, I ended up heading home with my very own quart (!) of the mixture.
Pickled cauliflower manages to retain its toothsome bite and bright white shade.
Carrot sticks provide an earthy sweetness that might entice pickle naysayers to have a taste.
A few slivers of hot pepper keep things interesting.
A drizzling of extra virgin olive oil provides a silky coating -- plus, the combination of oil and brining liquid makes an excellent, instant vinaigrette.
Russian
Dill pickles are the unequivocal king of the pickle world, and Eastern Europe and Russia hold the crown.
Kirby cucumbers have the classic shape and tell-tale bumps of a dill pickle.
Sea salt does all the preservation work here, so be generous.
Loads of wispy fresh dill have the sharp, green, caraway-like flavor we have come to expect.
Freshly grated horseradish root and garlic cloves contribute pungency and mild heat.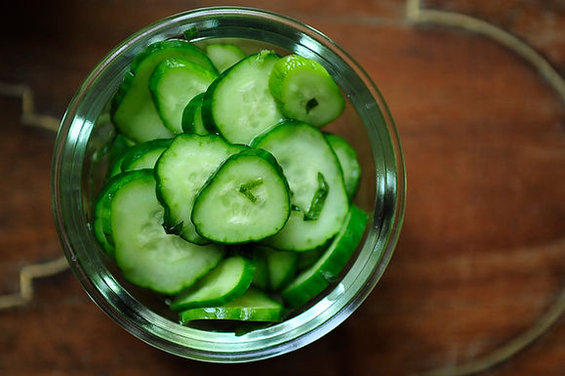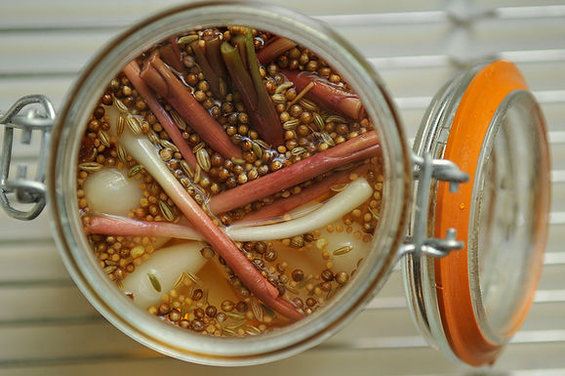 Quick Cucumber and Shiso Pickles and Sweet & Spicy Pickled Ramps (photos by Sarah Shatz)
These are just a few of the ways I like to travel by way of pickled vegetables. What other regionally inspired flavors would you use to make this puckering condiment your own? Share your ideas in the comments section below.
Do you love a good food theme as much as I do? Tell me what food items or themes you'd like to see featured in this column and your idea could be the subject of an upcoming post!
Like this post? See Molly's previous topic: Pudding.
Molly is a chef and food educator living and cooking in northern Wisconsin. When she's not dreaming up themed menus, she's dishing out other delicious content as the editorial assistant for the Whole Foods Market Cooking program.