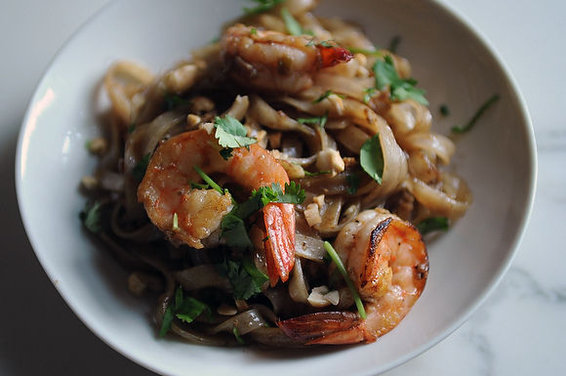 Photo by Sarah Shatz
We're no strangers to stir-fries, those weeknight workhorses that swiftly morph whatever's in the fridge into soy-inflected satiation. But tonight it's time to tackle another wokked classic: pad Thai.
One of Thailand's national dishes, pad Thai is commonly sold from street stalls and vendors floating on well-organized river boats in its country of origin. It takes the proprietors just minutes to whip up the noodles thanks to an assortment of bowls of prepared ingredients (mise en place) kept within arms reach. After the shrimp and eggs are cooked and the raw bite has left the shallots, presoaked rice noodles are tossed in the wok, imbued with sauce and spice, tangled with chopped scallions, peanuts, and bean sprouts, and sprinkled with cilantro leaves and fresh lime juice.
Here at home, we can take a page from the books of those expeditious cooks. Including the 20 minutes of noodle soaking time (during which you should prep the other ingredients and mix the sauce), this recipe can be made in 30 minutes or less. Sure, that's longer than those floating vendors would take, but you're operatiing without the fear of capsizing.
Note: Some recipes include tofu, chile powder, chicken, and/or bean sprouts, and you should feel free to substitute your protein(s) of choice here, amplify the heat with extra chiles (dried or fresh), and heap on the sprouts. If you can't find tamarind concentrate, the last ingredient in the sauce mixture, which contributes a pleasing punch reminiscent of sour molasses, you can substitute an equal part of tomato paste along with a squeeze of fresh lime juice. You can also use molasses and lime juice, but you may want to reduce the amount of sugar.
Shrimp Pad Thai by mtlabor
Serves 2
3 tablespoons fish sauce
1 tablespoon rice vinegar
3 tablespoons sugar
4 tablespoons vegetable oil
1-2 tablespoon tamarind concentrate
8 ounces thick rice noodles
2 eggs
Salt and pepper to taste
1 pound medium shrimp, peeled and deveined
3 garlic cloves, minced
1 shallot, minced
1 jalapeño, seeded and minced
Small handful honey roasted peanuts, chopped
Small handful cilantro, chopped
See the full recipe at FOOD52.
• • • • •
Wine Pairings:
When pairing a wine here, it all comes down to the jalapeño. If you like it spicy, you'll want something a tad rich and maybe even a little sweet, like Riesling or Pinot Gris from Alsace. If the heat level isn't too severe, you might go for a Sauvignon Blanc from the Loire Valley or New Zealand. Sauvignon Blanc is a dead ringer for cilantro and rich and textural foods like this.
Top Picks
2009 Schlumberger "Prince Abbes" Pinot Gris, France
2011 Stratum (Sherwood) Sauvignon Blanc, Marlborough, New Zealand
Have you made pad Thai at home? How does your version differ from this one? Share your cooking tips in the comments section below.
Like this post? See the Make This Tonight topic from last week: Shades of Green Chopped Salad.