In her biweekly column, A Shared Tradition, CIA grad and amateur food historian Molly Siegler cruises around the world (and into the depths of her pantry) to explore the versatility of a single food item.
This week: Molly embraces summer's transient fruit season with four spreadable preserves.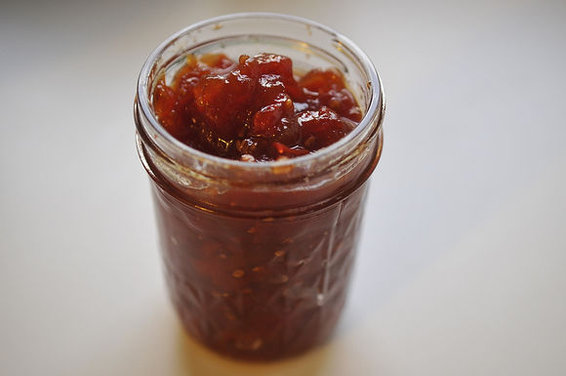 Sweet & Savory Tomato Jam (photo by Sarah Shatz)
- Molly
Though nothing beats the intoxicating perfume of a ripe apricot or the outpouring of juice from a freshly plucked blackberry, there is something satisfying about having the control to put that renegade raspberry right where you want it. And that's where fruit spreads come in handy. Or, you could employ Amèlie's raspberry fingertip method. When I was little, I did the same with Bugles to much less elegant effect. I digress.
Now is the time to make plans for your summer fruit. How else will you maintain your rigorous year-round jam consumption regimen? Frances would approve.
Scottish
Though marmalade was born as a quince preserve, it is now traditionally made with citrus.
Lemon would make a lovely counterpoint to summer's tart berries.
Seedy raspberries, strawberries, or blackberries have the textural integrity to stand up to the spread's chewy peels.
Soften the preparation with a split vanilla bean.
Northern Italian
At home on charcuterie plates and sandwiches, mostarda plays the savory side of the fruit spread game.
Plums have a tart sweetness and natural pectin that make them a shoe-in for this sticky condiment.
Mustard oil laces the conserve with an awakening punch -- add a handful of mustard seeds for extra kick.
Candied ginger doubles down on the heat.
Sugar and black pepper play up one another in the cooking liquid.
Hungarian
Lekvár is a pantry staple that takes advantage of the season's top produce.
Ripe stone fruits are cooked to a pulp.
Sugar and lemon juice balance each other out.
Add ground almonds toward the end of the cooking process to give the spread a little heft.
Flat crêpe-like pancakes or yeasted sweet rolls happily engulf the thick jam.
Serbian
Slatko is eaten by the spoonful (the jam is often called spoon sweets) and served to guests upon arrival with a much-appreciated glass of water.
Pit sour cherries, but keep them whole for the spread.
A rose petal-scented syrup gently stews the suspended fruit.
Strong Turkish coffee accompanies slatko at the end of a meal.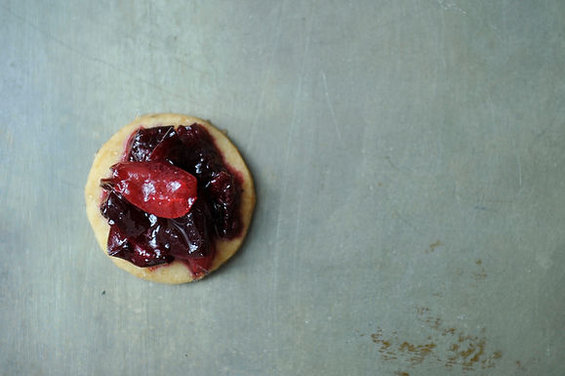 Strawberry Riesling Jam and Cherry Jam with Lemon-Pepper Shortbread. Photos by Tricia Martin (left) and Sarah Shatz
These are just a few of the ways I like to travel by way of fruit spreads. What other regionally inspired flavors would you use to make these smooth-operating schmears your own? Share your ideas in the comments section below.
Do you love a good food theme as much as I do? Tell me what food items or themes you'd like to see featured in this column and your idea could be the subject of an upcoming post!
Like this post? See Molly's previous topic: Pickled Vegetables.
Molly is a chef and food educator living and cooking in northern Wisconsin. When she's not dreaming up themed menus, she's dishing out other delicious content as the editorial assistant for the Whole Foods Market Cooking program.