A healthy eating specialist at WFM Columbus Circle and WFM Union Square, Kelly Dupuis believes in eating foods without labels (an ear of corn, a ripe tomato). As a proponent of plant-based diets, she eschews packaged substitutes offering a quick fix. For Kelly, it's all about cooking from scratch. In her weekly column, Comfort Food - Refreshed, Kelly doesn't just adapt her favorite comfort foods to her plant-strong lifestyle, she reimagines them in original recipes with a wink to the past.
This week: Kelly fashions a cherry crisp without the use of her oven (unlike her friend Elaine, who is currently neck-deep in a cherry pie bake-a-thon).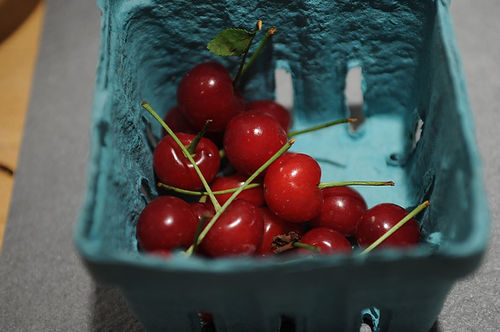 Photo by Sarah Shatz
- Kelly
Oh, goodness, it's cherry season! I adore cherries. I love the how they stain my fingers. I love their tart sweetness. I love their cute little stems. I'm even okay with the semi-annoying pit aspect. I appreciate the shortness of the juicy little gems' season and take advantage of it any way I can. But I'm not the biggest cherry aficionado I know. Nope, no way.
My friend Elaine Tin Nyo makes sour cherry pies this time of year, every year, and for a very limited time only, because the sour cherry season is tremendously short, you see. The sour cherry season came early this year, so Elaine had to buckle down early. She bakes and bakes and bakes until there are no more sour cherries to be found. She shares these pies with coworkers, neighbors, and friends. She literally wakes up, makes and bakes pies, goes to work, makes and bakes pies, goes to sleep, and then repeats the process day after day until the last pie has been baked.
Elaine will tell you she's been working on the recipe for years now. This year, she says she finally got it right. (Though I imagine the folks who have eaten her pies believe Elaine "got it right" a while back; "The pies have always been perfect," they'll most likely say.) These pies are classy and classic; they're rustic and refined; they stay warm on the counter during a heat wave; and they'll warm up your soul after you've had a slice. Big fat cherry love is in these pies. For sure, Elaine possesses a full-on obsession with sour cherries, but it's a fruitful obsession. One celebrating seasonality, deliciousness, and community. Because as much as baking the pies is an obsession for Elaine, I'd say, so is sharing them.
I went to a brunch at Elaine's last week celebrating her sour cherry pies. (I brought a cucumber-melon salad to the affair.) But just because I'm a healthy eating maniac doesn't mean I didn't have a small slice to join in on the event, the sense of community. You should have seen the looks on the guests' faces as they gobbled down their slices: pure joy. As for the pie? Not too sweet, not too sour; crust thick and flaky; sour cherries still whole within the pie, holding onto their juicy integrity. I'm not even a "fruit-pie person," but, man, did I appreciate the art of this pie -- and the love that went into making it.
So, of course, I have to give you a cherry dessert recipe! They're so naturally luscious, it's easy to let the cherries shine in their sweet, sweet way without loading up on added sugar. So, I give you Summertime Cherry Crisp. The real love will come to you when you sit down to pit the cherries. Really! It won't take too long, but it will be a labor of love, and I think you'll find you'll be okay with that. The crisp topping is full of macadamia nuts and flaked coconut, which bring texture to this no-bake recipe. (I don't know about you, but the air conditioning doesn't quite reach my kitchen!) Without further ado, here is my tribute to one of summer's most awesome offerings: the cherry.
Summertime Cherry Crisp (Raw)
Serves 6-8
2 cups raw macadamia nuts
1 cup nonsweetened dried coconut flakes
8 dried apricots
2 tablespoons water
2 teaspoons vanilla extract
1/2 teaspoon sea salt
1/2 teaspoon cinnamon
3/4 pound cherries, pitted and halved (bing, white, sour -- whichever!)
1/4 cup fresh squeezed orange juice
2 tablespoons lemon juice
2 tablespoons honey
See the full recipe (and save and print it) here.
Stop by for cooking advice!
Do you need help with maintaining a healthy diet? Drop by WFM Columbus Circle or WFM Union Square to chat with me about this recipe and plant-strong cooking tips.
Like this post? See Kelly's topic from last week: Super Smoothies.
Kelly Dupuis is a healthy eating specialist at WFM Columbus Circle and WFM Union Square who delights in transforming comfort classics into deliciously satisfying and fun plant-based dishes.