Photo by Joseph De Leo; styled by Mariya Yufest
An ancient herb, civilizations have long used parsley in medicinal applications to ward off everything from unpleasant breath to evil spirits. In fact, parsley wasn't popularly consumed as food until the Middle Ages. Then for most of the 20th century, it practically withered away as a forgotten garnish.
Today, this emerald green herb bursts with lemon-spiked pepperiness. And while the milder curly variety is still mostly relegated to the embellishment realm, its sibling, Italian or flat-leaf parsley, makes appearances in dishes far and wide. Parsley can be simply plucked from its stem to punctuate mixed green salads, or chopped and showered on soups and stews for a burst of spunky freshness. Minced or mashed, the leaves brighten up traditional herbaceous sauces like salsa verde and chimichurri, and condiments like garlicky gremolata. A dusting of minced parsley adds a dose of levity to classically rich preparations like chicken fricassee and boeuf bourguignon.
Parsley root, though an obscure grocery store find, is in fact a treasured vegetable found in Eastern European soups and stews. If you're lucky enough to find it (or grow it), use it as you would celery root, turnip, or parsnip.
How do you use this ever-present herb? Share your favorite ways to enjoy parsley in the comments section below. Remember, if you choose to upload a recipe (and we hope you will), please mention it in your comment.
We'll assemble and share some of our favorite ideas next week.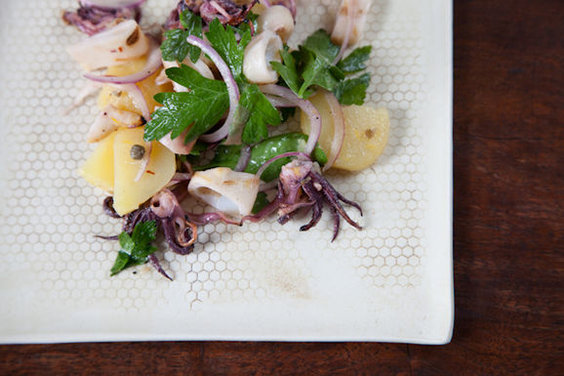 Photos by Joseph De Leo (left) and Jennifer Causey
Recipes
Broccoli Aglio Olio with Gremolata Bread Crumbs
Basil Tabbouleh
Crisp Pork Cutlets with Citrus Salsa Verde (pictured above, left)
Pasta with Cilantro-Parsley Pesto, Tomatoes and Feta
Grilled Squid Salad with Lemon, Capers, and Parsley [FOOD52] (pictured above, right)
Summer Squash Gratin with Salsa Verde and Gruyere [FOOD52]
Whole Baked Fish in Sea Salt with Parsley Gremolata [FOOD52]
For more seasonal produce inspiration, check out our previous topic, Your Best Ideas for Plums, and the selection of your best tips and recipes, How to Use Plums.