Photo by Joseph De Leo; styled by Mariya Yufest
Picnics have a magical quality -- a trek to the beach, a spread in the park, or even an impromptu meal in the backyard can feel like a special occasion if accompanied by a thoughtfully packed basket of goodies. Follow these suggestions to ensure your alfresco (and, with any luck, shoeless) meals go off without a hitch.
Ideal Picnic Fare
Stuff your picnic basket with foods that are easy to eat and safe for a couple hours at room temperature:
Bean-based (as opposed to dairy-based) dips can form the foundation of a simple outdoor spread.
Sliced fruits and vegetables are easier to handle away from a kitchen than whole produce -- skewer bite-sized pieces for easy distribution. Or, better yet, select produce and cheese that can be purchased in bite-sized form, such as grape tomatoes, blueberries, and small fresh mozzarella balls.
Vinaigrette-dressed grain and pasta salads hold well and serve as a satisfying canvas for summer veggies and diced cured meats.
Leftover roast chicken offers a healthier and less greasy version of that traditional picnic staple, cold fried chicken.
Choose sturdy or individually portioned baked goods that can be eaten without utensils, such as muffins, hand pies, and brownies.
For sparkling drinks like lemonade, opt for bottles with swing-top gaskets that stay connected to the bottle so there are fewer parts to lose.
When it comes to condiments, lighten your load by bring only what you'll need: transfer heavy condiments like ketchup into smaller airtight containers.
Food Safety
Only pack cooked foods in a cooler once they have completely cooled.
If you plan to cook anything at the picnic, store raw meat in a separate cooler from ready-to-eat foods. After the picnic, the raw meat cooler can be used to transport dirty dishes, utensils, and cooking tools; the ready-to-eat cooler can be used to bring home any uneaten prepared food.
Any foods that contain meat, poultry, eggs, or dairy that have been out of the cooler for more than two hours should be discarded.
If you're driving to your picnic spot, transport your food in the air-conditioned interior of the car rather than the trunk.
Keeping it Clean
Bring plenty of antibacterial hand wipes in addition to napkins -- especially if you'll be working with raw meat on-site.
Instead of plastic baggies, wrap individual sandwiches in paper to keep messes to a minimum and make labeling easy.
Use real flatware and plates or opt for sustainable, recyclable supplies for your picnic. If you don't have an extra cooler, bring an extra bag to stash dirty dishes. And don't forget to bring a bag for regular trash and another for recyclables. You may also want to bring a bag for any grounded blankets that have grass clinging to them.
Add a couple of kitchen towels to your packing list -- these can step in to sop up spills, clean off a picnic table, or even provide extra seating in a pinch!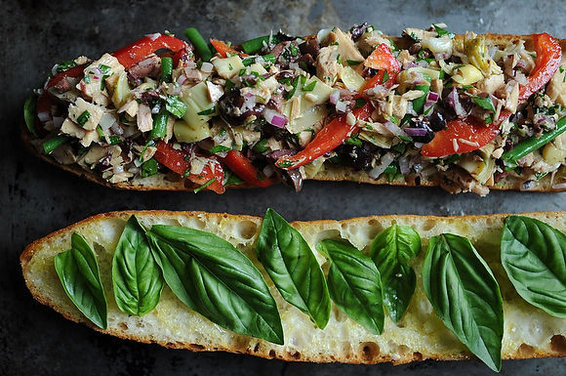 Photos by Sarah Shatz (left) and Joseph De Leo
Recipes
Nutty Red Pepper and Basil Dip
Spring Into Summer Potato Salad
Grilled Veggie and Goat Cheese Pitas
Roasted Lemon-Herb Chicken
Fresh Peach Raspberry Pecan Muffins
Rustic Red Ribbon Cornmeal Cake (pictured above, right)
Rosemary Thyme Pita Chips [FOOD52]
Plum Avocado Summer Salad [FOOD52]
Summer Farro Salad [FOOD52]
Pan Bagnat: Le French Tuna Salad Sandwich [FOOD52] (pictured above, left)
What's your picnic-packing routine? Do you have any go-to recipes for outdoor dining? Share your tips and suggestions in the comments section below.
Like this post? Check out last week's From Scratch topic: Homemade Ketchup and Mustard.