In her biweekly column, A Shared Tradition, CIA grad and amateur food historian Molly Siegler cruises around the world (and into the depths of her pantry) to explore the versatility of a single food item.
This week: Molly calls on four diverse slaws to present at summer cookouts.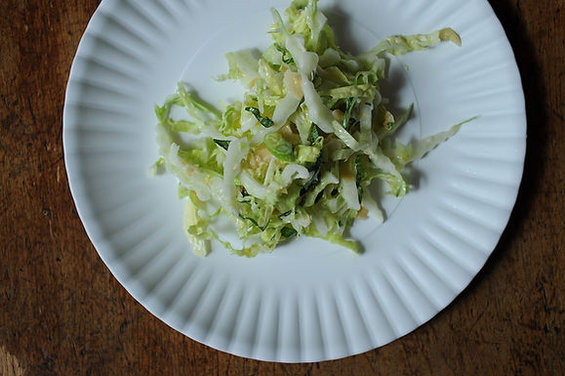 Summer Slaw (photo by Sarah Shatz)
- Molly
I love the simultaneously vague and specific nature of slaws. Mark Bittman hears me. This sort of preparation allows for plenty of wiggle room -- luckily, categorizing foods (secretly in my head) is one of my dorkier hobbies.
All slaws are salads, but not all salads are slaws. Slaws must have a dressing of sorts, however light, but too much dressing takes them out of the salad realm and into condiment land. Ingredients for a slaw can be shredded, grated, or very finely minced, but definitely not cubed. Slaws are primarily vegetable-based with some exceptions being made for green mango, papaya, and tart apple.
It can feel a little arbitrary, but that's part of the fun.
South Indian
Kosmalli is a slaw as comfortable with afterschool-snack duty as it is at a wedding banquet.
Grated carrots hold down the fort in this root veggie-based slaw.
Moong dal (split and peeled mung bean) is quickly soaked, then added raw to the salad for an appealing crunch.
Fresh curry leaves counter the slaw's light, bright notes.
A shower of grated fresh coconut (or dried, unsweetened flakes, if necessary) plays up the carrots' sweetness.
Cambodian
Salade Cambodgienne is a traditional Khmer dish that draws on French and Thai influences.
Shredded Napa cabbage provides a feathery foundation.
Chicken breast is poached and then torn into lithe pieces that mimic the cabbage.
Tuk trey, a Cambodian dipping sauce, serves as the highly-spiced dressing.
Crushed roasted peanuts and mint are sprinkled on top to provide a countercurrent to the fiery slaw.
German
A vinegary version of the mayonnaise-based slaws found stateside, krautsalat, means "cabbage salad."
Paper-thin green cabbage is laced with white wine vinegar.
A healthy dose of sugar sweetens the plot.
Sliced green bell pepper is a crisp, flinty foil for the sweet cabbage.
A few toasted caraway seeds or poppy seeds break the soft-mint color scheme.
North Carolinian
Red slaw, or barbecue slaw, is often tucked right into Lexington-style pork sandwiches.
Green cabbage is finely chopped to produce a texture that leans toward that of a condiment.
Ketchup gives this slaw its flush.
Cider vinegar melds with the ketchup to form a barbecue-like sauce.
Red pepper flakes, amped up according to taste, prod the slaw with a hint of heat.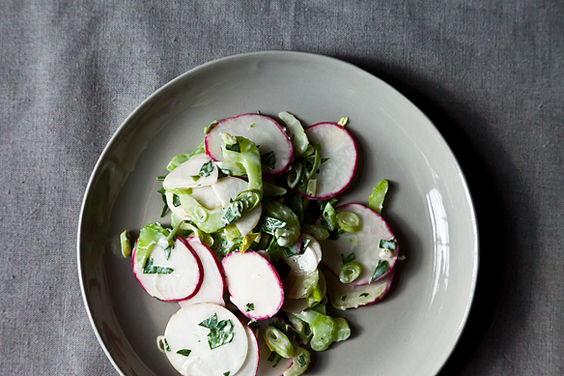 Crunchy Celery, Radishes and Turnips Salad-Slaw with Blue Cheese Sauce; a bed of spicy bean sprout slaw sits underneath Yum Dogs. Photos by James Ransom (left) and Sarah Shatz
These are just a few of the ways I like to travel by way of slaws. What other regionally inspired flavors would you use to make these shredded salads your own? Share your ideas in the comments section below.
Do you love a good food theme as much as I do? Tell me what food items or themes you'd like to see featured in this column and your idea could be the subject of an upcoming post!
Like this post? See Molly's previous topic: Fruit Spreads.
Molly is a chef and food educator living and cooking in northern Wisconsin. When she's not dreaming up themed menus, she's dishing out other delicious content as the editorial assistant for the Whole Foods Market Cooking program.