A healthy eating specialist at WFM Columbus Circle and WFM Union Square, Kelly Dupuis believes in eating foods without labels (an ear of corn, a ripe tomato). As a proponent of plant-based diets, she eschews packaged substitutes offering a quick fix. For Kelly, it's all about cooking from scratch. In her weekly column, Comfort Food - Refreshed, Kelly doesn't just adapt her favorite comfort foods to her plant-strong lifestyle, she reimagines them in original recipes with a wink to the past.
This week: Kelly grills a ratatouille-inspired vegetable medley and then stuffs it into a sandwich.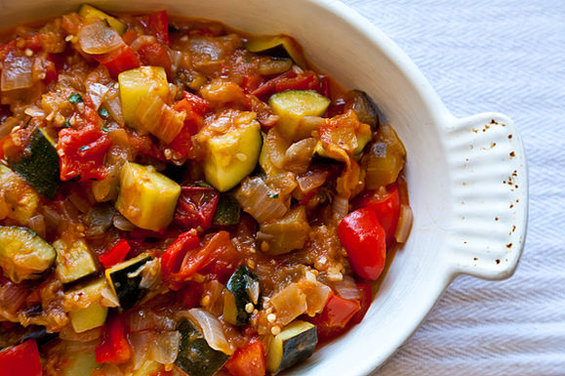 The classic stewed vegetable dish ratatouille hops out of the pan and into a sandwich (photo by James Ransom)
- Kelly
Soon after my move to New York City in 2001, I began my urban adventure in grocery shopping. It didn't take long to find a grocery store or deli or street cart -- they're practically on every corner. But happening upon a farmers' market on Isham Street just a few blocks away from my first apartment in uptown Manhattan was truly a great discovery.
As a young girl growing up in somewhat rural Massachusetts, the "farmers' market" was, for me, a literal trip to the farm -- or roadside farm stand -- with the family for a couple dozen ears of native corn or a case of peaches about to explode from ripeness. Here in NYC, I'll head over to pick up a piece of fruit, a cup of apple cider, a multigrain roll. And on other occasions, I'll make an epic trip to the farmers' market with my reusable shopping bags and return with a big fat bounty. That bounty often makes it into what I consider an official dish of summer: ratatouille.
Ratatouille is generally served as a side dish consisting of perfect summer produce like tomatoes, onions, zucchini, eggplant, bell peppers, along with fresh herbs and garlic. You can enjoy the dish warm, cool, or at room temperature. There's a bit of debate about how you need to cook this bad boy. Some folks say it needs to be slow roasted. Some say it's fine to sauté it. I've done it up both of those ways. But this summer, I'm looking to the grill, where I'll whip up this Grilled Ratatouille Sandwich. Slice up some eggplant, summer squash, and zucchini lengthwise, halve some of the juiciest tomatoes you can find, cut a red onion into thick rings, and throw them all in a quick balsamic-and-fresh-herb marinade, and you're on your way. For this sandwich, I'm using a whole wheat baguette, which can also be charred up on the grill, too. Rub raw garlic cloves on the warm, cut sides of the bread right before serving to permeate them with a subtle garlicky aroma. Lather on some chopped Kalamata olives mixed with lemon juice (a truly quick tapenade!) and the sandwich is complete.
Note: You can make this sandwich with whatever summer vegetables are fresh locally -- experiment with different combinations. And if you don't have a grill, just use a grill pan on the stovetop. However you prepare this sandwich, let me know how it turns out!
Grilled Ratatouille Sandwich
Serves 4
1 small eggplant, sliced lengthwise, 1/2 inch thick
1 large red onion, sliced 1 inch rings
1 zucchini, sliced lengthwise, 1/2 inch thick
1 yellow squash, sliced lengthwise 1/2 inch inch
4 plum tomatoes, sliced 1 inch rings
2 teaspoons sea salt
1/2 cup balsamic vinegar
2 teaspoons fresh ground black pepper
2 teaspoons dried oregano
1 whole wheat baguette,cut in 4 sections and then sliced in half
2 garlic cloves, halved
1/2 cup finely chopped Kalamata olives
Juice of 2 lemons
See the full recipe (and save and print it) here.
Stop by for cooking advice!
Do you need help with maintaining a healthy diet? Drop by WFM Columbus Circle or WFM Union Square to chat with me about this recipe and plant-strong cooking tips.
Like this post? See Kelly's topic from last week: Summertime Cherry Crisp (Raw).
Kelly Dupuis is a healthy eating specialist at WFM Columbus Circle and WFM Union Square who delights in transforming comfort classics into deliciously satisfying and fun plant-based dishes.