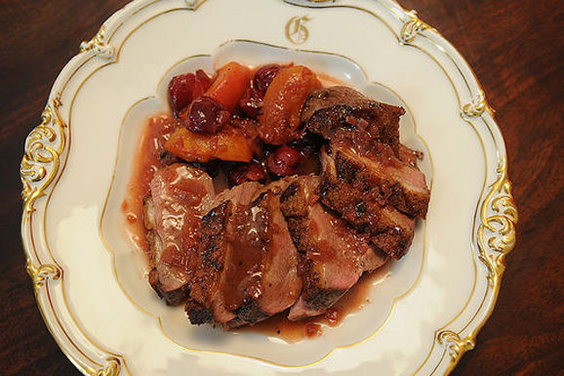 Burger, salad, repeat. Barbecue, berries, repeat. Does this summer feeding routine sound all too familiar? Here's a dish to shake things up, while still celebrating the season. Crispy-skinned duck breast is smothered in an herbed sour cherry and apricot sauce (bolstered by apricot nectar and light red wine) that's so fragrant and balanced you'll forget your formally strict grilled-food-all-the-time allegiance. You may think at first, as we did, that this seems like a wintry dish (despite the fresh summer fruit), but just compare its heft to that of smoked brisket and those molasses-laden barbecue sauces -- there's no denying it's lighter.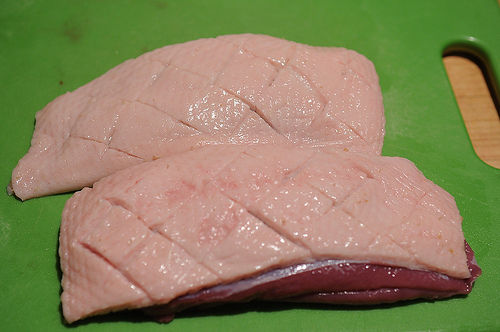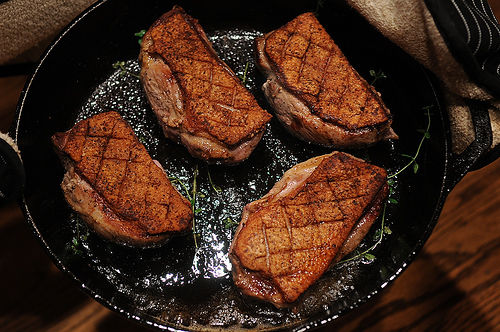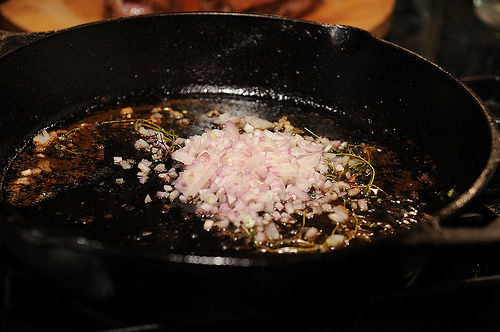 Jewel-like sour cherries lend this duck dish some serious panache. Sour cherries have soft, thin skin that glows with near translucency, but being fragile doesn't deter them from carrying the weight of the savory stone fruit sauce, which stands up gracefully alongside the roasted duck. Sour cherries also store powerful anti-inflammatory properties and antioxidants. In fact, tart cherries are being studied for their abilities to counter aches and pains, aid in intense workout recovery, induce a good night's sleep, and reduce the risks of heart disease and diabetes. So, eat up -- and save those sweet cherries for an ice cream sundae.
Roasted Duck Breast with Sour Cherries by sweet enough
Serves 4
4 duck breasts with skin on
2 shallots, finely chopped
4 sprigs fresh thyme
1 cup fresh sour cherries, pitted, stems removed
4 fresh apricots, sliced in quarters
1/2 cup chicken stock
1/3 cup apricot nectar
1/3 cup red wine (recommended: Pinot Noir)
See the full recipe at FOOD52.
• • • • •
Wine Pairing:
This is a quintessential Pinot Noir dish. Every element found on this plate of food is often described in a glass of Pinot Noir. The earthiness of the duck, the brightness of the cherries and apricots, herbs like thyme and sage. You can drink other things if you want -- Barbera, Grenache, Sangiovese -- but, why?
Top Pick
2009 Domaine Thomas Morey Bourgogne Pinot Noir, France
How do you mix up your warm-weather dinner routine? Have you cooked with sour cherries? Share your cooking tips and meal ideas in the comments section below.
All photos by Sarah Shatz.
Like this post? See the Make This Tonight topic from last week: Crab Salad with Lemon Dressing.