Popsicles have a storied summer history -- many of us have chased the ice cream man for blocks just to get our hands on one. Whether in the role of a quick afternoon cool-me-down or as a refreshing and whimsical dinner party dessert, a stash of icy pops isn't wont to disappoint. With a battery of new popsicle books on the stands and this handy guide, you're well on your way to a freezer replete with hand-held treats.
Popsicle Planning and Prep
Start with a base of 100% fruit or veggie juice, lemonade, or puréed fruit.
Liquefied sugars in the form of simple syrup or honey are easiest to incorporate into the the cold ingredients. But be judicious when adding sugar of any kind -- too much will prevent pops from freezing properly and you'll end up with slush.
Alcohol can prevent proper freezing, as well -- add no more than 20 percent of the total volume. This amounts to about a shot of alcohol per cup of liquid.
For a creamier dessert, add plain yogurt or buttermilk to the mix.
Layer in whole or crushed berries, or thin slices of fruit like kiwi or banana for texture.
Chiffonade fresh herbs like basil, mint, and cilantro and stir them into the popsicle base.
Create colorful layered popsicles by partially freezing each layer of flavor before adding the next.
If popsicle molds aren't in your kitchen arsenal, use ice cube trays for tiny treats (lollipop sticks work best for these) or paper cups for tear-away molds.
Plan ahead -- popsicles need at least six hours of freezer time to set up properly.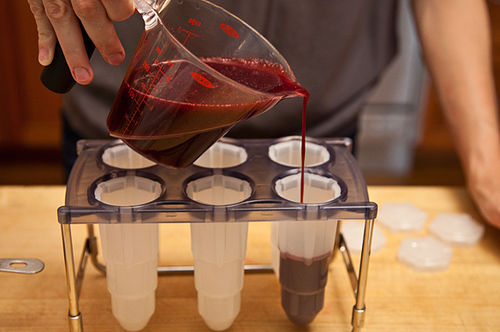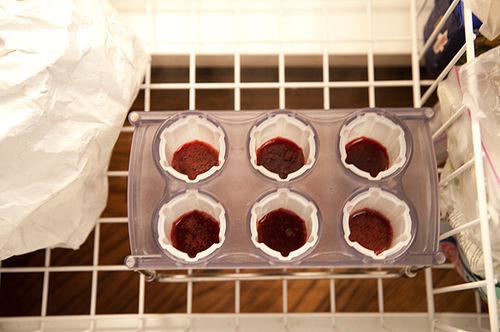 Pouring the first flavor layer into the molds; the half-filled popsicles begin to firm up in the freezer
Tricks of the Trade
There are two options for securing popsicle sticks. First, you can partially freeze the popsicles until they're slushy and then insert the popsicle stick. This method requires remembering the plan and hanging around a little longer. (If you forget to plug the sticks in, you might end up eating your frozen treats with tongs!)
The second method gets you off the hook until the popsicles are ready to enjoy: Layer a sheet of aluminum foil or plastic wrap over the top of the mold (or paper cup), secure it to the base with clips on two opposing sides, and punch the sticks through into the popsicle base.
To unmold the popsicles, give them a quick (no more than one minute) bath in hot water, and then pull very gently to release them (don't wiggle or twist).
For dairy-based popsicles, a brief rest on the kitchen counter should soften the pops enough to unmold them without a dip in the hot water bath.
Perfect Pairings
These are just a few of our favorite flavor combinations. Check out the recipes below for more inspiration.
Fresh apricots, Greek yogurt, and a swirl of salty caramel
Limeade, mint simple syrup, gin, and cucumber slices
Mashed and whole red raspberries, buttermilk, and honey
Carrot-orange juice, fresh ginger syrup, and grated carrots
Basil blended with Greek yogurt and layered atop blueberry purée
Spicy tomato juice, pepper-spiked vodka, minced celery leaves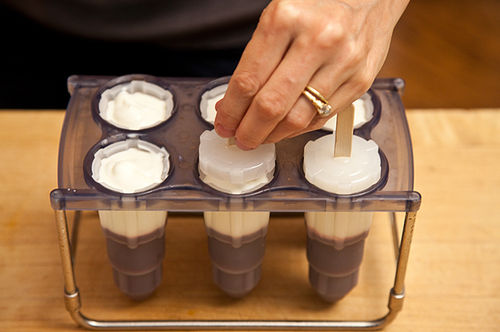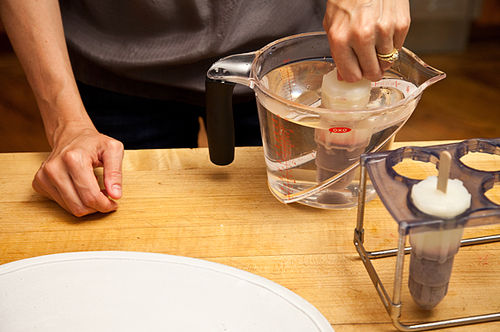 Layer two is in and the popsicle sticks are inserted (notice this mold set includes bases for the popsicle sticks to slide into); unmolding the popsicles after a brief bath in hot water
Recipes
Mint and Ginger Lemon "Aid" Popsicles
Peach-Mango Popsicles
Blackberry, Rosemary, and Yogurt Popsicles [FOOD52] (featured in all photos above)
Two-Tone Fudgesicles [FOOD52]
Mango Popsicles [FOOD52]
Coffee-Cardamom Popsicles with Guittard Chocolate Powder [FOOD52]
Do you make your own popsicles? Share your tips and recipes in the comments section below!
Thanks to Whole Foods Market Old Town's cooking coach, Michael Kiss, for suggesting this topic.
All photos by James Ransom.
Like this post? Check out last week's From Scratch topic: Picnic Packing 101.