A healthy eating specialist at WFM Columbus Circle and WFM Union Square, Kelly Dupuis believes in eating foods without labels (an ear of corn, a ripe tomato). As a proponent of plant-based diets, she eschews packaged substitutes offering a quick fix. For Kelly, it's all about cooking from scratch. In her weekly column, Comfort Food - Refreshed, Kelly doesn't just adapt her favorite comfort foods to her plant-strong lifestyle, she reimagines them in original recipes with a wink to the past.
This week: Kelly tosses hot pasta with a spicy raw tomato sauce.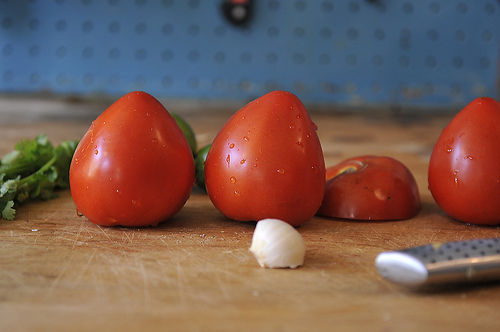 Photo by Sarah Shatz
- Kelly
Picture it: scorching hot summer day, wallet fairly empty, air conditioner doing its job, kitchen fairly cool. So, cooking dinner is mandatory. But what on earth do I want to cook in this heat? I'm not exactly in a salad mood. (I know, summer means salad, but, come on, there's a limit to even my salad intake.) What do I have in my possession? A box of whole wheat linguine and a few pounds of tomatoes, all nearly about to burst. They've been sitting on the counter for a day or two now, ripening more and more with each passing second, flirting even. It's time for them to become fresh tomato sauce.
I've always loved tomatoes. I picked them out of everyone's salads at family cookouts when I was younger. I loved when Dad would toast up white bread, slather on some mayo and slap on thick-cut, brilliantly red slices of vine-ripened beauties. And chopping up cherry tomatoes at any time of year and tossing them with a cup of black beans, a chopped onion, minced jalapeño, and the juice from a lime is the way to make one of my favorite simple salsas.
But when it comes to my favorite way to eat tomatoes, it's gotta be with pasta. Because I've also always loved pasta. What's not to like? A piping hot bowl of starchy noodle-y goodness. Pasta is without a doubt a top five comfort food in my book. And now, with all the different kinds of pasta out there -- from whole wheat to quinoa to rice to buckwheat -- there's a noodle for everyone. These alternative pastas are typically higher in fiber and protein than your traditional white flour pasta. For my dollar and my health, that's a great deal. A bowl of whole wheat pasta fills me up much more than a bowl of white flour pasta, and they often cost about the same, so that's a win-win. But back to the star: the tomatoes!
In this spicy linguine recipe, tomatoes are at the forefront. As long as they're super juicy and ripe, feel free to select any kind you like -- vine-ripened, field, cherry, grape, heirloom, or plum -- because (get this!) the sauce is raw. Well, it's raw before you throw steaming hot pasta onto it, and then the sauce cooks just a bit, so the tomatoes' juices start to run, the heat from the red pepper flakes fires up, and the aroma of basil intensifies. Throw a handful of toasted nuts and more fresh basil on top and you have yourself a bowl of something remarkably good.
Whole Wheat Linguine with Fresh and Fiery Tomato Sauce
Serves 4-6
3 pounds ripe tomatoes, roughly chopped
4 garlic cloves, minced
3 tablespoons balsamic vinegar
1 tablespoon honey
1-2 teaspoon red pepper flake (to taste)
1 teaspoon fresh thyme
1 teaspoon dried oregano
1/2 teaspoon fresh ground black pepper
1 teaspoon salt
12 ounces whole wheat linguine, cooked al dente according to boxed directions.
1 cup fresh basil leaves, roughly chopped
1 cup toasted slivered almonds, chopped walnuts or pinenuts
See the full recipe (and save and print it) here.
Stop by for cooking advice!
Do you need help with maintaining a healthy diet? Drop by WFM Columbus Circle or WFM Union Square to chat with me about this recipe and plant-strong cooking tips.
Like this post? See Kelly's topic from last week: Grilled Ratatouille Sandwich.
Kelly Dupuis is a healthy eating specialist at WFM Columbus Circle and WFM Union Square who delights in transforming comfort classics into deliciously satisfying and fun plant-based dishes.