In her biweekly column, A Shared Tradition, CIA grad and amateur food historian Molly Siegler cruises around the world (and into the depths of her pantry) to explore the versatility of a single food item.
This week: Molly offers up four potato salads to support the current fleet of carb-loading Olympians.
- Molly
With the world abuzz with Olympic fervor and the sports nut in me on high alert, I'm finding myself a little preoccupied with the food it takes to fuel these athletic performances. Might I suggest a classic known the world over for the carb-loading athletes among us? Potato salads are traditionally packed with fresh herbs and veggies, shots of protein, and sometimes bits of fruit. As long as dressings are applied with restraint, I believe I've hit upon a new addition to the Olympic training routine.
Peruvian
The birthplace of the potato ought to have a lovely version of the summer staple.
A bed of lettuce holds sliced, boiled potatoes.
Sautéed aji amarillo peppers and garlic cloves meet queso fresco in a blended cheese sauce that smothers the cooked potatoes.
Hard-cooked eggs and black olives adorn the finished dish.
Dutch
More of a light meal than a side dish, huzarensalade covers all the food groups. If you're feeling spunky, toss in a cubed, roasted beet and let the salad have a magenta moment.
Waxy potatoes hold their shape when jostled by other ingredients.
Gherkins (miniature pickles) can be sliced or diced according to your preference -- just save a few for garnish.
Crisp, tart apples add unexpected crunch.
Shredded corned beef or cubed baked ham lend serious substance.
Romanian
The name "salata orientala" refers to ingredients that were once exotic in Romania.
Start with medium-starch potatoes that are cooked, peeled, and sliced.
Rings of thinly sliced red onion mingle with the potatoes.
Apple cider vinegar and olive oil form a quick vinaigrette.
Whole, pitted olives, parsley, and rounds of hard-boiled egg top the salad.
Spanish
You'll find variations of ensaladilla rusa at tapas bars alongside other potato-centered bites like patatas bravas and papas en escabeche.
Blanched peas and carrots are evenly distributed among cubed cooked potatoes.
Hard-cooked eggs (again!) are coarsely chopped and added to the mix.
High-quality tuna packed in olive oil is folded in to avoid breaking up the flakes.
Homemade mayonnaise thinned with a bit of vinegar adds creaminess without cloaking the other flavors.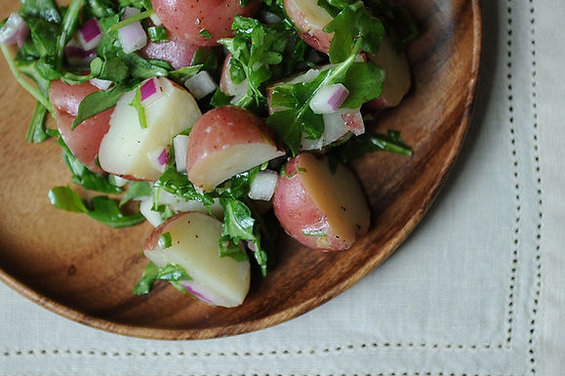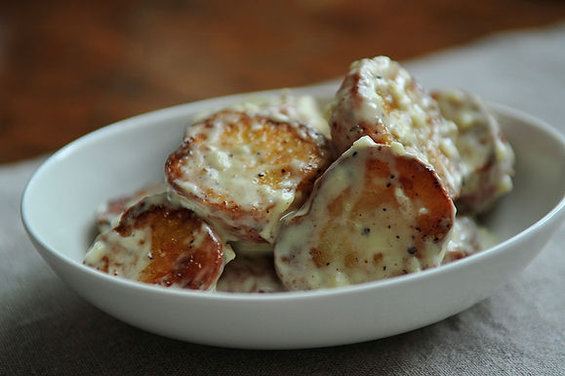 Potato Salad with Arugula and Dijon Vinaigrette and Spanish Roasted Potato Salad
These are just a few of the ways I like to travel by way of potato salad. What other regionally inspired flavors would you use to make this starchy side your own? Share your ideas in the comments section below.
Do you love a good food theme as much as I do? Tell me what food items or themes you'd like to see featured in this column and your idea could be the subject of an upcoming post!
All photos by Sarah Shatz.
Like this post? See Molly's previous topic: Slaws.
Molly is a chef and food educator living and cooking in northern Wisconsin. When she's not dreaming up themed menus, she's dishing out other delicious content as the editorial assistant for the Whole Foods Market Cooking program.