Photo by Joseph De Leo; styled by Mariya Yufest
It's safe to say that cucumbers are pretty popular. Every year, worldwide cucumber production tips the scale at about 84 billion pounds, with China being the number one supplier. History shows evidence of this sought-after veggie originating in Western Asia around 2,500 BC thanks its mention in the legend of Gilgamesh. Slowly but surely, the cucumber made its way across the world, finally making itself known in North America around the 1500s.

Hundreds of varieties of cucumbers exist. There are those that are best suited to pickling like the gherkin, Kirby and lemon cucumbers; and there are those that are superb for slicing: the English, Japanese, and "garden" cucumbers. You can often differentiate between pickling and slicing cucumbers by sight: pickling cucumbers are typically smaller with thick, ridged or bumpy skin; slicing cucumbers are larger with smooth skin.
The English cucumber deserves special mention not only because of its size (it can grow up to two feet!), but because these cucumbers have a sweeter flavor, delicate skin that is considered more pleasant to eat, and seeds that are so small they are considered practically seedless. English cucumbers are what you would want to use if you are preparing cucumber slices for sandwiches or salads. Use English or other slicing cucumbers for other non-pickled preparations. In France and China, for example, it is popular to sauté cucumbers; in India, cucumber is a main ingredient in raita, a cooling condiment made with fresh mint to balance spicy dishes.
In addition to coming in hundreds of varieties, the cucumber has powerful health benefits. The skin of the cucumber is most often peeled away before its used in cooking, but pause for a moment before you do that. Cucumber skin holds most of its vitamins and minerals, including vitamins C and K, Potassium, and cancer-fighting antioxidants.

How do you use this versatile vegetable? Share your favorite ways to enjoy cucumbers in the comments section below. Remember, if you choose to upload a recipe (and we hope you will), please mention it in your comment.
We'll assemble and share some of our favorite ideas next week.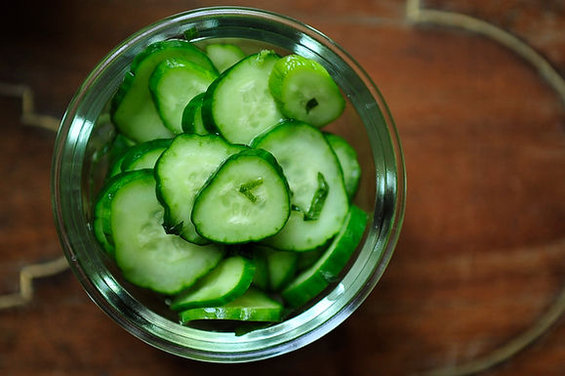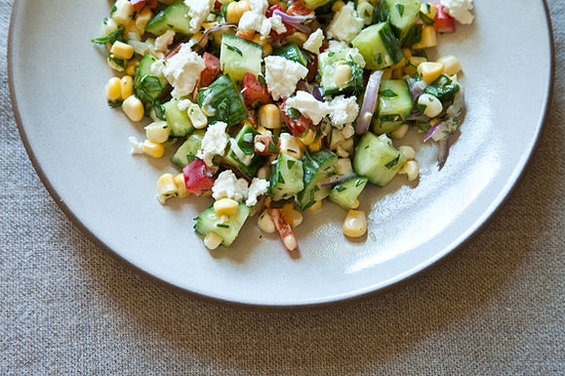 Photos by Sarah Shatz (left) and James Ransom

Recipes

Creamy Cucumber and Herb Soup
Tomato and Cucumber Farro Salad
Cucumber Alpine Herb Cocktail
Bhutanese Red Rice Salad with Fennel, Cucumber and Feta Cheese
Cucumber and Butter Tea Sandwiches [FOOD52]
Quick Cucumber and Shiso Pickles [FOOD52] (picture above, left)
Dilled, Crunchy Sweet-Corn Salad with Buttermilk Dressing [FOOD52] (pictured above, right)

For more seasonal produce inspiration, check out our previous topic, Your Best Ideas for Blackberries, and the selection of your best tips and recipes, How to Use Blackberries.