In her biweekly column, A Shared Tradition, CIA grad and amateur food historian Molly Siegler cruises around the world (and into the depths of her pantry) to explore the versatility of a single food item.
This week: Molly salutes state fair season with four fried batters and doughs.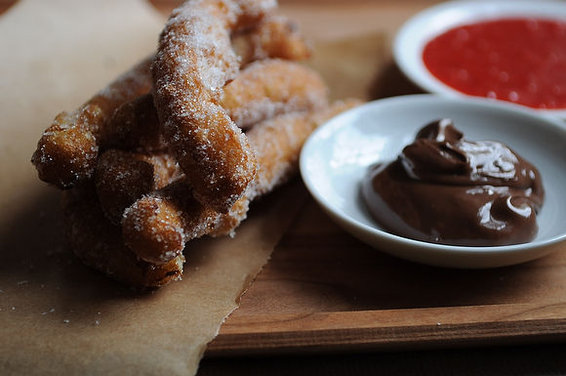 Hanukkah Churros (photo by Sarah Shatz)
- Molly
It's state fair season in the U.S. and aside from butter cows and prizewinning needlework, food is the main attraction; deep-fried foods in particular. The scent and crunch of coiled funnel cake and mini doughnuts weave through my childhood memories in an embarrassingly potent way. We won't mention the time blue cotton candy became a permanent fixture in my bowl cut.
Admittedly, these international fritters are deep fried, but with the addition of interesting flours and even a few fruits and vegetables, I like to think of them as luxuries that won't break the bank.
Senegalese
An easy, irresistible street snack, accara are bite-sized black-eyed pea poppers.
Black-eyed peas are soaked and then ground into a smooth purée.
Minced onion supplies a touch of sweetness and texture.
Baking soda gives these fritters a lift.
Habanero tomato sauce turns these tater tot-sized fritters into a five-alarm treat.
Creole
Beignets are New Orleans staples that manifest themselves in both sweet and savory variations.
Large yeast bubbles give the doughnuts a malty vibe.
Fresh blueberries dot this particular batter and turn into (pleasantly) molten marbles when deep fried.
Deeply roasted black coffee spiked with chicory (and warm milk, if you're so inclined) will power through the overtly sweet -- and obligatory -- coating of powdered sugar.
Kenyan
Mandazi are an East African specialty served for breakfast and dinner alike.
Sweet rice flour is blended with all-purpose flour to build the foundation for an airy end product.
Creamy coconut milk richly moistens the dough.
Unsweetened shreds of dried coconut give these snacks an unexpected chew.
With roughly grated cardamom and a tandem of salt and sugar, this doughnut straddles the line between sweet and savory.
Indian
Perfect as a starter, pakoras welcome lots of vegetal additions.
Chickpea flour has a nutty, toasty quality.
Sliced yellow onions spider out from the batter.
Crushed red pepper adds a flit of heat and turmeric ensures a golden glow.
Cilantro and finely diced hot green chile add verve.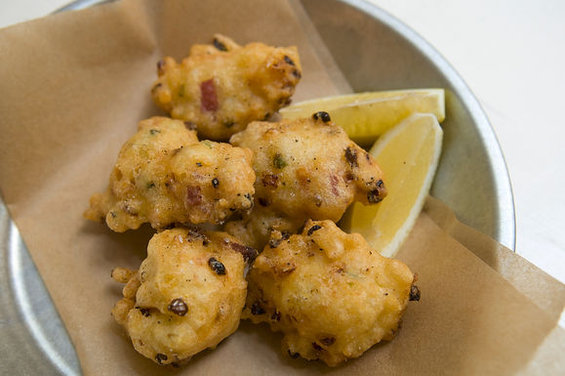 Corn Zeppole and Artichoke Fritters with Parmesan and Peppadew. Photos by Melanie Einzig (left) and Joseph De Leo.
These are just a few of the ways I like to travel by way of doughnuts and fritters. What other regionally inspired flavors would you use to make these fried batters and doughs your own? Share your ideas in the comments section below.
Do you love a good food theme as much as I do? Tell me what food items or themes you'd like to see featured in this column and your idea could be the subject of an upcoming post!
Like this post? See Molly's previous topic: Potato Salad.
Molly is a chef and food educator living and cooking in northern Wisconsin. When she's not dreaming up themed menus, she's dishing out other delicious content as the editorial assistant for the Whole Foods Market Cooking program.