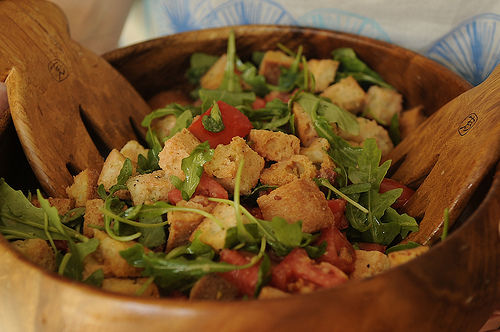 Photo by Sarah Shatz
There's nothing like a fresh loaf of bread, its chewy crust giving way to a pillowy, pocketed interior. But then it gets stale, and while it looks the same, it's just a tough, sad shell of its former self. Your first instinct might be to pitch it; the more frugal-minded of us might pulverize it for bread crumbs.
But that's not all there is. For years, home cooks have had the ingenuity and economy to make use of stale bread in transformative ways. Soups like ribollita and gazpacho are thickened with it. It eagerly soaks up sweet egg custard in bread pudding and the fuschia juices of Berry Summer Pudding. Here, it's cubed, toasted, and dressed to extend a refreshing yet meaty salad.
Inspired by the Tuscan bread salad, panzanella, this clever BLT-inspired salad builds on the traditional version made with only untoasted stale country bread, tomatoes, onions, olive oil, and vinegar. Oven-dried bread, cubed bacon, and arugula join the bowl, along with a creamy lemon-Dijon dressing, whose distribution is facilitated by the clingy juice of fresh tomatoes. It may not be the most greens-laden salad ever, but when you compare the amount of bacon typically stuffed into one of those brazen, three-letter bacon sandwiches to the three ounces of bacon spread across four servings here, it looks downright virtuous!
BLT Panzanella by Meredith Shanley
Serves 4

For the Salad:
1/2 large loaf ciabatta bread, cubed
3 small to medium sized tomatoes, largely diced
3 ounces slab bacon, cut into cubes
3 handfuls arugula, roughly chopped

Creamy Lemon Dressing:
1/2 lemon, juiced
Zest of 1/4 lemon
1 teaspoon Dijon mustard
1 teaspoon leftover bacon drippings
3 tablespoons extra virgin olive oil
2 teaspoons mayonnaise
Salt and fresh cracked pepper, to taste
See the full recipe at FOOD52.
• • • • •
Wine Pairings:
Big, rich, and white. I'm talking about wine here! You need a wine here that can handle the spice of arugula, the fatty richness of bacon, and the heft and texture of bread, but also one that won't pucker up with the tomatoes. The best all-around match is Chardonnay -- it does everything. Really, any Chardonnay will do, but the bigger the better, so long as there is some acidity. Another good match would be a Sauvignon Blanc blend, either from Bordeaux, Italy, or California. Those regions blend Sauvignon Blanc with rich whites from the area, resulting in wines with texture and freshness.
Top Picks
2010 Foxglove Central Coast Chardonnay, California
2009 Batzella "Mezzodì" Bolgheri Bianco, Italy
What other ways do you like to use up stale bread? Share your thrifty tips in the comments section below.

Like this post? See the Make This Tonight topic from last week: Crisp Pork Cutlets with Citrus Salsa Verde.