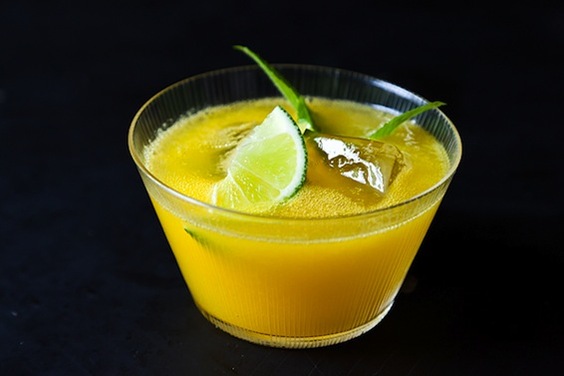 Photo by James Ransom
As you read this, gardens are bursting at the seams, hurriedly giving up their hard-earned wares during these waning summer days. We'll regret we said this come January, but we're starting to experience a little produce fatigue. Aside from canning up a storm, flavored waters offer a welcome solution to keeping up with the furious pace of growth. Besides reviving our produce devotion, liquefying some of the more prolific contributors to the crisper drawer means having fresh, nutritious drinks on hand. Consider these beverages quick fuel -- whether you're recharging the kids for after-school activities or yourself for another session of yoga (a.k.a. stretching for that ripe tomato at the top of the vine).
Flavored Water Traditions
Aguas frescas (fresh waters) are typically housed in clear, beehive-shaped barrels in open-air markets in Latin America, and include three ingredients: fruit (or grains, nuts, seeds, or flowers), water, and sugar.
Horchatas fall under the aguas frescas category, but are always made with blended grains (often rice) or nuts (traditionally almonds). Sugar must be added, and cinnamon is a common flavoring.
Horchata de Chufa is Spain's tigernut version of the Mexican sweetened rice drink.
Flor de Jamaica is called an "agua fresca" even though it is made more like a tea by infusing dried hibiscus flowers in boiling water. The brew is simmered with warm spices like cinnamon and cloves, and then chilled.
A Few Tips to Ensure Success
Fleshy produce with high water content works best for blending, as the water content of the produce will reduce the amount of water you'll need to add, yielding a drink that tastes more of its essence.
Seed melons, cucumbers, and tomatoes before blending to avoid any bitterness from grinding the seeds.
Grains, nuts, seeds, and pulpy pods like tamarind need to be soaked and softened prior to blending.
Chiles, fresh herbs, and edible flowers are excellent flavor enhancers, but don't have enough heft to support flavored waters on their own. Try adding a hot pepper to the blender with the primary fruit or vegetable, or infusing simple syrups with fresh herbs and edible flowers before adding them to the liquefied drink.
There is no set ratio of fruit to water to sugar, but in general, plan on 1-2 cups of fruit to 4-5 cups of water to 1/4-1/2 cup of sugar. Always start with less sugar and water than you think you'll need and add more to taste.
5 Steps to Homemade Flavored Water
Soak grains, nuts, or seeds overnight in cold water to before blending.
Seed, peel, and chop produce into manageable chunks. (Check out these tips for handling melons.)
Zap whole produce or soaked grains/nuts with water in a blender and purée until very smooth. Use just enough water to blend everything thoroughly; you can always add more later, and it's much harder to fix a diluted drink.
Use a generous square of cheesecloth (a tea towel or coffee filter can step up in a pinch) to strain the flavored water and capture all the pulp. If using a sturdy cloth, take this opportunity to squeeze out every last drop of water. A fine mesh sieve can also do the trick, but more bits of purée might sneak through.
Add sweeteners to your liking, citrus juice for acidity, chopped fresh herbs, or spices to the strained flavored water. Chill until ready to serve.
Alternative Method Using Cooked Fruit or Vegetables
Cooking the fruit for a flavored water will not only yield a deeper flavor, but also expand your ingredient options, as some produce can be tough to include without a juicer. Roasted beets, carrots, and sweet potatoes, for example, can all partake in the fun after being cooked.
You can either cook the fruit or vegetables before blending (do this for root vegetables and other items that would require a juicer), or you can make the purée with raw soft produce, and then cook that mixture down to concentrate the flavor before straining it.
Other Uses for Flavored Waters
Warm tomato water in a shallow saucepan and whisk in a knob of butter and minced fresh herbs for a light sauce to accompany fish.
Tomato water also works well in place of stock for brothy soups.
Strain your choice of agua fresca directly into a chilled glass and mix with rum, vodka, or sparkling wine for an instant cocktail.
Cook hot cereals in horchata instead of your go-to water or milk.
Perfect Pairings
Blackberries and blueberries sweetened with a basil simple syrup and topped with sparkling water.
Soaked cashews and sesame seeds with rose water and honey.
Fresh corn kernels, saffron, and raw sugar.
Mango, a few slivers of jalapeño, lime juice, and chopped fresh mint.
Simmered hibiscus flowers, cinnamon simple syrup, and chia seeds for texture.
Blended tomatoes, celery, and red pepper, a grating of fresh horseradish, a pinch of salt, and a couple drops of Worcestershire sauce.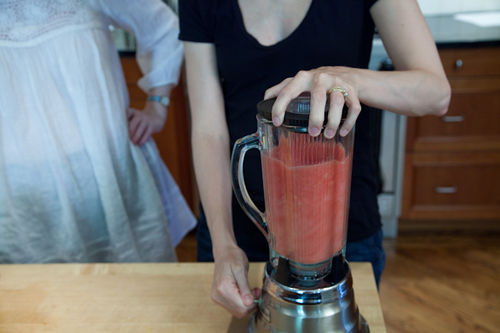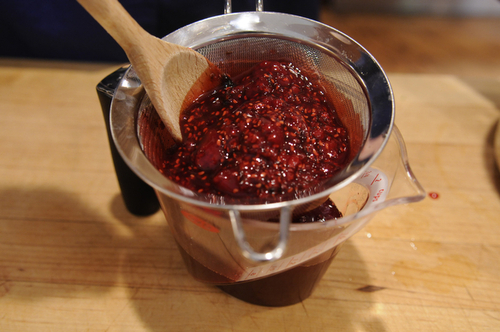 Watermelon is whirled in the blender; cooked raspberries are mashed through a fine mesh sieve. Photos by Jennifer Causey (left) and Sarah Shatz.
Recipes
Watermelon Agua Fresca
Mango Agua Fresca
Cantaloupe, Cucumber and Lemon-Lime Agua Fresca with Mint
Strawberry and Rosemary Agua Fresca [Food52]
Lemon Mint Barley Water [Food52]
Mango-Mint Limeade [Food52] (pictured at top)
What experiences do you have with flavored waters? Share your cooking tips and favorite combinations in the comments section below.
Like this post? Check out last week's From Scratch topic: Refrigerator Pickles.