In her biweekly column, A Shared Tradition, CIA grad and amateur food historian Molly Siegler cruises around the world (and into the depths of her pantry) to explore the versatility of a single food item.
This week: Molly unearths four egg-centric recipes that are made for mornings.

Daniel Patterson's Poached Scrambled Eggs (photo by James Ransom)
- Molly
I've always had a bit of a rocky relationship with eggs. When I still needed a step stool to reach the counter, I helped in the kitchen, and my breakfast job was to break up raw eggs for scrambling. I often snuck bites of the gooey raw egg yolks (there's photographic proof), which might explain why eggs and I started off on the wrong foot.
When I moved on to cooked eggs, I first insisted that they be evaporated to a fine powder (I exaggerate only slightly). Then, when eggs were allowed to appear in larger morsels, they were barely visible through a thick veil of hot sauce. I have since matured and have learned to embrace eggs in their natural form. I even have an egg joke (it's the only joke I know).
If you're a little egg shy, too, these dishes will help to prove your commitment to the breakfast table workhorse.
Israeli
Shakshuka has left a trail of happy egg eaters across Northern African and the Middle East, and is ensconced in Israeli culinary tradition.
Roughly chopped tomatoes, onions, and a mix of sweet and hot peppers stew away to develop the poaching liquid.
Fresh eggs are cracked directly into the tomato base, and then basted with the sauce to cook the whites.
Tangy, crumbled feta is distributed evenly atop the poached eggs.
Warm pita bread should be on hand to sop up the sauce.
Persian
A frittata look-alike, the green-tinged egg cake kuku-ye sabzi (often called "kuku" for short) is a traditional New Year's dish in Iran, and may be eaten hot or cold.
Fresh, leafy green herbs -- parsley, cilantro, dill -- and scallions form the bulk of this egg dish.
Advieh is a Persian spice mix typically consisting of cinnamon, dried rose petals, cardamom, and cumin, and should be added liberally to the mix.
Dried barberries (zereshk) have a sharp, sour flavor and pop against the deep emerald backdrop of the kuku. Yotam Ottolenghi recommends a bit of lime juice if barberries can't be found.
Tex-Mex
Migas (Spanish for "crumbs") is a Texas standard, perfect for weekend brunches.
Crushed tortilla chips or slices of stale corn tortillas flesh out this scrambled egg variation.
Jalapeños ratchet up the heat.
Homemade salsa is added to the migas in the last few moments of cooking time, just long enough to warm through.
Top with a generous helping of chopped cilantro and grated Monterey Jack.
Japanese
A sweetened, rolled omelet often served in slices, Tamagoyaki makes appearances in breakfast spreads and bento boxes alike.
Mirin, a sweetened, rice-based cooking wine, and soy sauce provide the seasoning and give the layered eggs a tawny glow.
Sugar balances the savory elements of the omelet and adds a bit of surprise in this simple preparation.
Only a few tablespoons of the gently beaten egg mixture (sometimes thinned with a splash of dashi) are added to a small pan at a time, each addition forming a layer in the fluffy egg log being rolled back and forth.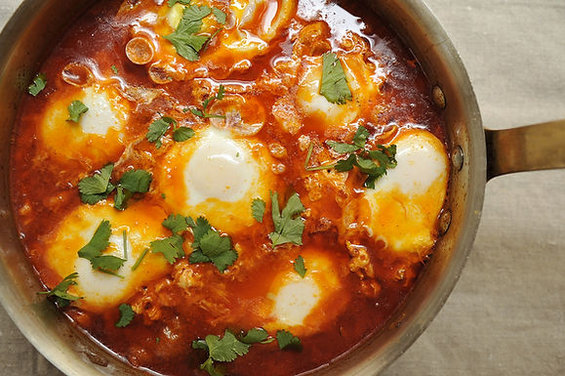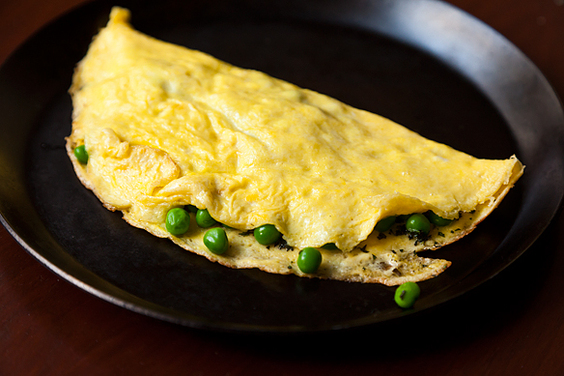 Moroccan Merguez Ragout with Poached Eggs and Petite Pea Omelet with Mint and Mascarpone. Photos by Sarah Shatz (left) and James Ransom.
These are just a few of the ways I like to travel by way of eggs in the morning. What other regionally inspired flavors would you use to make this breakfast powerhouse your own? Share your ideas in the comments section below.
Do you love a good food theme as much as I do? Tell me what food items or themes you'd like to see featured in this column and your idea could be the subject of an upcoming post!
Like this post? See Molly's previous topic: Soda.
When she's not dreaming up themed menus and exploring the wilds of Northern Wisconsin, Molly's dishing out other delicious content as the assistant editor for the Whole Foods Market Cooking program.