Laura Kumin, the creator of the blog Mother Would Know and a cooking educator, loves to share cooking tips, recipes, and the joy of home cooking. But tapping into that joy during the weeknight dinner rush can be challenging, to say the least. In her column, It's Just Dinner, Laura offers up no-nonsense tips to keep home cooks and their families both sane and sated come dinnertime.
This week, Laura shares three key factors for evaluating a recipe's weeknight worthiness.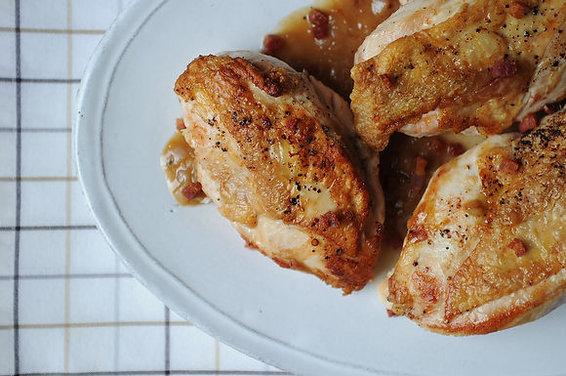 Pan Roasted Chicken Breast with Dijon Sauce and Crispy Pancetta [Food52] (photo by Sarah Shatz)
- Laura
Tip 8: Practice Weeknight Recipe Realism
When I was a newlywed, my husband decided to make me a birthday dinner. He planned a three-course meal: Coquilles St. Jacques (scallops in cream sauce) as an appetizer, a stew for a main course, and a spectacular dessert. He bought all the ingredients and earnestly began his preparations. We sat down to a beautifully set table as he thought he was putting the finishing touches on the appetizer -- around 8:00 p.m. He had the main-dish ingredients ready, but not cooked. By 10:00 p.m., the main course was nowhere near ready and we decided to make the rest of the meal together the following evening. No worries on the relationship front -- I'm still happily married, 31 years later.
But I did learn a good lesson from that dinner: The best of intentions and lots of ambition are great when it comes to meal planning, but if you aren't realistic, the most luscious meal ever imagined won't move from the cookbook to the table.
Needless to say, most of us plan weekday dinners that are much less elaborate. But even a one-dish meal or a relatively simple meat, starch, and vegetable menu can be time consuming. Assuming that you've got the ingredients or could easily obtain them, how do you know if a recipe is a good one for a weekday dinner?
Consider three factors when determining whether a recipe is right for a weekday dinner:
The number of steps required,
How much you could do ahead of time, and
How long each step will take.
How many steps are there in the recipe? If you can read the recipe twice, and then basically recite how to make the dish, it's probably a good one for a weekday dinner. Every rule has exceptions, of course, and for this one, my exception is stir-frying. There may be multiple steps in a stir-fry dish, but they are often simple and quick, so even if you can't recite them, you're still on safe ground. I'm a big fan of cheat sheets for stir-fries. I set the ingredients up in order before I start, using the mise en place concept rigorously because stir-fries typically have short cooking times for each component added to the wok in a given order. I keep the cheat sheet next to the ingredients and close to the wok, so I don't have to hunt through the recipe for how to do the next step as I'm working. The other "secret" to stir-fries that makes them great weekday dinners is that you can do much of the preparation ahead of time, which leads nicely into our next factor.
Can you prepare some (or all) ingredients ahead of time? If you can and you don't mind doing that the evening before, you can make a more involved recipe on a weekday than if you have to start from scratch when you walk in the door. Refer to my fourth tip on do-ahead meals for more advice on advance preparation, and don't forget that leftovers already in your refrigerator can be a treasure trove. Whether they're pieces of roast chicken, cooked vegetables, or leftover rice, think about how last night's dinner can work as an element for tonight.
Next: Evaluate how long each step will take. Whether it's driving time or cutting carrots, I find it difficult to be realistic about how much time an activity will take. But if you want to stay sane, you have to be practical. If a recipe requires an hour of cooking that cannot be done ahead of time and you expect to put dinner on the table within an hour of arriving home, that's not happening. Likewise, if a recipe is complicated or requires a technique you've never done before, it's not a good pick for a weekday dinner. Instead, look for a simpler dish, like this recipe for sautéed chicken with vegetables.
Also, consider how you might do several steps simultaneously, so the total time is manageable and you get two dishes done at once. For example, if you've planned a soup-and-sandwich or soup-and-salad dinner, simmer the soup (allowing the grains, noodles, vegetables, etc. to cook within it), while you make the dressing for the salad and wash lettuce, or assemble sandwiches.
I've been caught up short and so will you, on occasion. But if you want to keep weekday dinners realistic, you'll keep these three factors in mind and reserve the lobster soufflé dinner for the weekend. Bon appétit!
Like this post? See Laura's previous topic: Tip 7: Make Time for Mise en Place.
As a mother and a daughter, Laura knows firsthand that a call to mom for a quick answer to a cooking question can turn into a long conversation about work, love interests, and when you last saw the dentist. On her blog, Mother Would Know, and as a cooking educator, Laura maintains a "no nagging zone," so her focus can remain on cooking tips, recipes, and spreading the joy of home cooking.