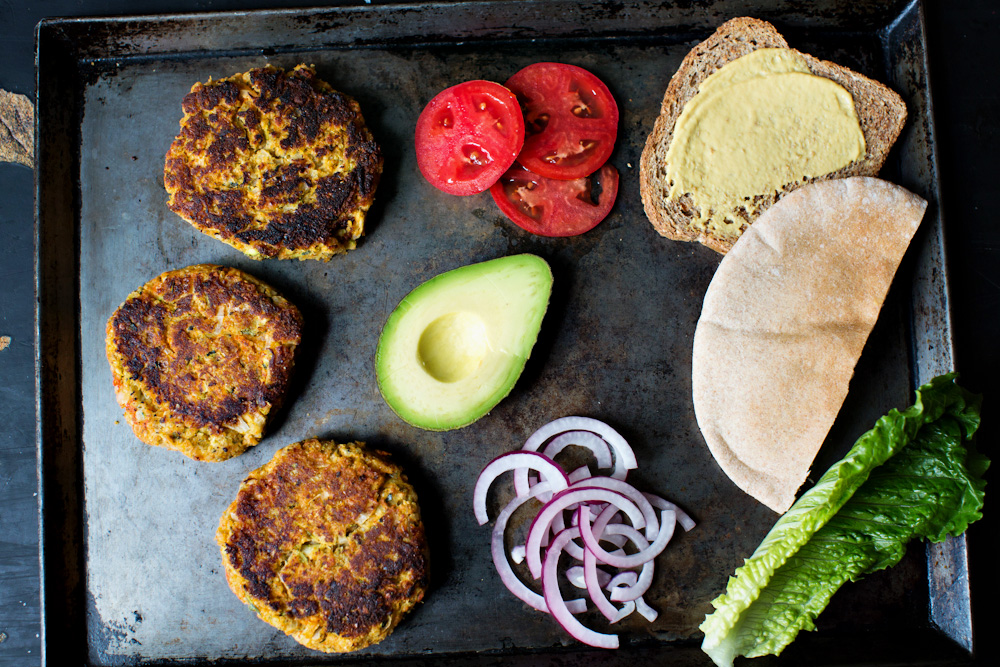 Zucchini Quinoa Burgers [Food52] (Photo by James Ransom)
The first thing that comes to mind when you hear the word burger might just be a fat, juicy patty consisting of some type of ground meat. Fortunately, the word burger means so much more. We are skipping a trip to the butcher, and shedding light on this misunderstood meatless meal.
The "meat:"
A hearty burger can be crafted by utilizing quite a few different ingredients. Let's break down the best ones that form a successful sandwich.
Beans & Legumes Easily cooked and ground into a patty, beans and legumes make for a popular meatless burger ingredient. Try mashing black beans with cooked onions, chili powder, and rolled oats for texture to create a great burger. Other beans and legumes you can use include lentils, edamame, soy beans, kidney beans, chickpeas, and lima beans.
Grains This pantry item can easily be repurposed into a burger. Quinoa cooks quickly and adapts well to other ingredients. Other grains to consider include barley, bulgur wheat, oats, and even rice.
Vegetables Last, but certainly not least, veggie burgers are growing in popularity with each passing summer. Almost any vegetable can be cooked down and ground into a burger. Try going seasonal -- fresh corn and zucchini make excellent pairings. Other popular veggie burger ingredients include sun-dried tomatoes, kale, beets, squash, and peppers.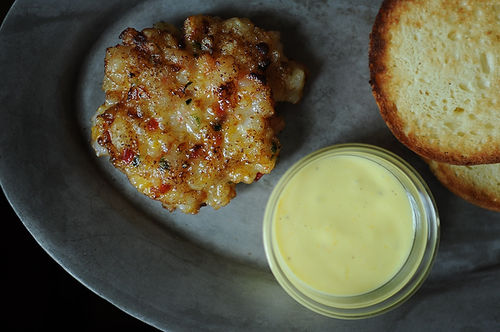 Shrimp Burgers with Roasted Garlic-Orange Aioli [Food52] (Photo by Sarah Shatz)
Holding it together:
After you've decided on your main burger ingredients, you'll need something to bind it together. As with ground meats, there is an element of fat that is crucial to keep the patty from falling apart. Mix your main ingredients and add an element from the below suggestions to keep it from falling apart.
Eggs
Sauces
Ground nuts and nut butters
Ground whole grains
Cooking methods:
Your burgers have been formed, and now it's time to cook them. As with any burger, meat or no meat, there are a few ways to get this done. Here are the top choices.
Sautéed Grab a skillet or large sautée pan, and heat on high with a light oil or cooking spray. Place your burgers in the pan, leaving enough room in between for flipping, and cook through -- usually a few minutes per side depending on the size and content of your burger.
Grilled Quite arguably the most popular way to cook a burger, of any variety, is by searing it on the grill. Whether using an indoor grill pan or your favorite outdoor grill -- this method adds a nice layer of texture and smoky flavor to your finished product. Try grilling a black bean burger 2 to 3 minutes per side.
Baked Leave all pans and grills to the side, and let your oven do the work. Place your burgers on a lightly greased baking sheet and roast until cooked through. Bake a veggie burger consisting of ground zucchini, peppers, and onions for a healthier version of a summer dish.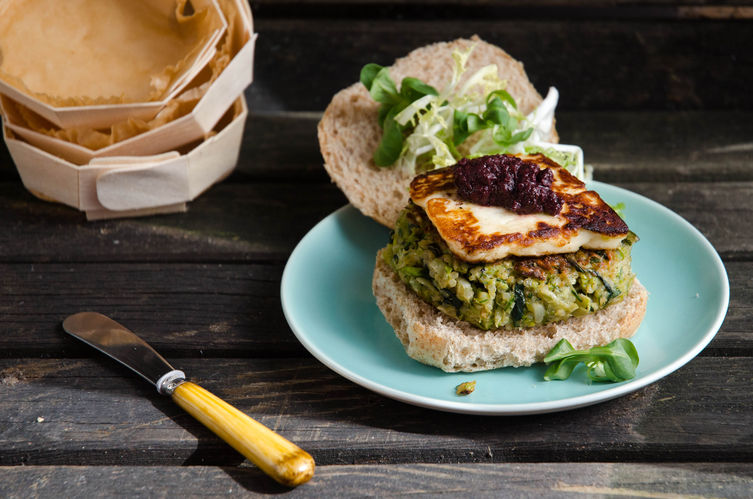 Quinoa, Fava Bean, and Charred Veggie Burgers [Food52] (Photo by Carolyn Cope)
Condiments:
There is an endless amount of ingredients that can adorn your meatless burger. Add ingredients for a crunchy texture, add sauces and aiolis for spice, and let your creativity take flight. Here are a few suggestions to get your inspiration going.
Fresh, pickled, or fried vegetables
Coleslaw
Bacon
Fried eggs
Cheese
Aiolis
Fresh salsas
Yogurt
Hummus
Any burger can be stuffed, wrapped, and sandwiched in a multitude of fashions. Place atop a bed of lettuce to skip the bread completely, or try placing it in between a few of the following:
Hamburger buns
Sandwich bread
Wraps and Pita bread
Lettuce
Gluten-free breads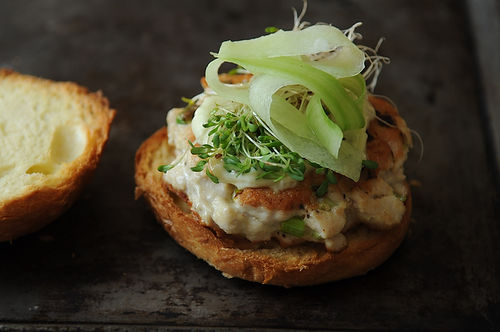 Tuna Burgers with Wasabi Mayo [Food52] (Photo by Sarah Shatz)
Southwest Veggie Burgers
Spicy Black Bean and Oat Burgers
Mushroom Burger
Sweet and Smoky Beet Burgers [Food52]
What's your favrite meatless burger preparation? Trying one for the first time? Share your comments below!
Like this post? See last week's From Scratch topic: Fresh Corn 101.