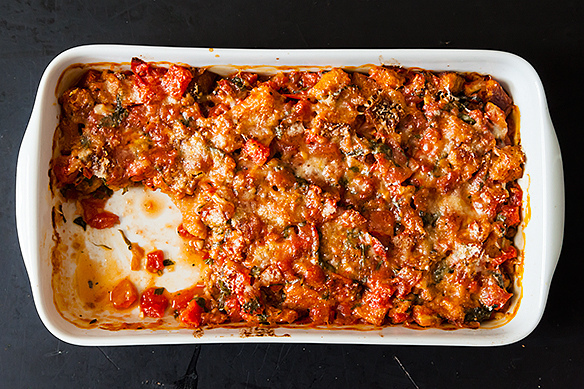 Photo by James Ransom
Get ready for a side dish that will steal the show at your next dinner. Start by heating bread in bacon fat (always a good beginning, right?), and then toss the rest of the ingredients in the pan to warm. Pour it all into a baking dish, top with cheese, pop it in the oven, and presto! You have a tomato strata just begging to be featured as the main event. Serve it over sauteed greens or simply in a shallow bowl with extra bread for dunking and swiping up all the sauce. If you must add more, a skewer of grilled shrimp, scallops or squid per person wouldn't be out of place. And there's no harm in smothering a chicken breast with a heap of the scalloped tomatoes, either. Dig in!
Sarah Leah Chase's Scalloped Tomatoes by Genius Recipes
Serves 6
3 tablespoons bacon fat (or olive oil, for vegetarians)
2 cups (1/2-inch diced) French bread, preferably a crusty baguette 16 plum tomatoes, cut 1/2-inch dice, about 2 1/2 pounds (use the best tomatoes you can find -- beefsteak will be juicier)
1 tablespoon minced garlic (3 cloves)
2 tablespoons sugar (optional -- we skipped it)
2 teaspoons kosher salt
1 teaspoon freshly ground black pepper
1/2 cup julienned basil leaves, lightly packed
1 cup freshly grated Parmesan cheese
See the full recipe at Food52.
What are your favorite star-worthy ways to serve tomatoes? Share your comments below!
Like this post? See last week's Easy Everyday topic: Spinach Salad with Figs and Feta Cheese.